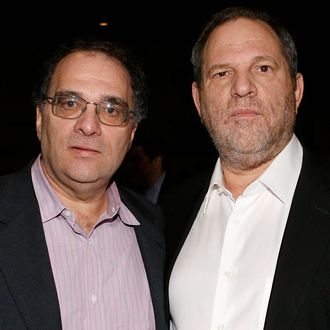 The Weinstein brothers, in better times.
Photo: Mark Von Holden/2009 Getty Images
Harvey Weinstein sure knows how to lose an ally. After two bombshell investigate reports came out that detailed the producer's long history of alleged sexual-harassment and assault (one in the New York Times last Thursday and the other in The New Yorker on Tuesday), Weinstein was quickly deserted by the A-list actors he employed, politicians he donated to, fellow execs he was once friends with, and his wife. Now, TMZ reports that Weinstein is, behind the scenes, accusing his brother and former business partner, Bob Weinstein, of leaking damaging internal documents within the Weinstein Company to the Times. "Sources connected to H.W." even allege that Harvey has a FedEx receipt as proof of Bob's betrayal.
While it would be easy to assume this was gossip that had just gotten out of hand, Bob Weinstein, who is the current head of Weinstein Co., responded to the rumors directly to TMZ:
My brother Harvey is obviously a very sick man. I've urged him to seek immediate professional help because he is in dire need of it. His remorse and apologies to the victims of his abuse are hollow … he has proven himself to be a world class liar and now rather than seeking help he is looking to blame others. His assertion is categorically untrue from A to Z. I pray he gets the help that he needs and I believe that it is him behind all of these stories to distract from his own failure to get help."