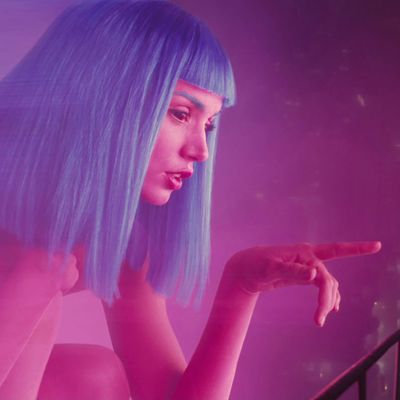 Photo: Warner Bros. Pictures
When it comes to this year's fluctuating awards season, one of the few take-it-to-the-bank guarantees is that cinematographer Roger Deakins will receive his 14th Oscar nomination, for Blade Runner 2049. The man is a bona fide legend who has shot some of the best films ever made — like Fargo, The Shawshank Redemption, and No Country for Old Men — and they're that iconic, in large part, because he was the man who shot them. And yet Deakins, who is considered one of our greatest living cinematographers and among the best to ever have done it, has never actually won the Oscar that he's been nominated for so many times.
Will that change this year?
Certainly, his work on Blade Runner 2049 merits all the accolades it's been getting in early reviews. It can't have been easy to follow up Ridley Scott's original 1982 classic, which laid down a template for sci-fi noir from which so many films since have cribbed. And yet this decades-later follow-up to Blade Runner, directed by Denis Villeneuve, feels lavish and strange enough to inspire its own generation of fans and filmmakers. It goes big in every respect: The sets are gigantic, the effects are immense, and each moment is drawn out for so long that even the simplest action becomes monumental.
That approach could so easily tip over into ridiculousness were it not for the incredible frames composed by Deakins. They don't just complement Villeneuve's elongated approach to the action, they seem to inspire it, as though each scene is hung up for you to ponder in a gallery. (A fitting approach, given how often even the most minor scenes from the original Blade Runner have been debated and reconsidered, sometimes even by a tinkering Ridley Scott himself.) In this dystopian world full of beat-down noir heroes and catwalk-ready robots, the mist that Deakins hangs everywhere occludes our ability to tell the difference between what is truly real and what simply simulates it, and he lets color leak into his shots as though it's come from a busted neon tube: It's contaminated, poisonous, and oh-so-beautiful. In the first Blade Runner, the company that manufactured the android replicants would tout them with the phrase "More human than human." Somehow, thanks to Deakins and his artful eye, this film is more Blade Runner than even Blade Runner.
It's about as compelling a case for an Oscar win as one could make, but Deakins has made plenty of them before and come up empty-handed. Why has he never won in this category? In part, it's because the Best Cinematography Oscar is so often tied to Best Picture. Recent Deakins nominations came from films like Sicario, Unbroken, and Prisoners, which failed to crack Oscar's biggest category, and while Deakins did shoot 2007's Best Picture winner No Country for Old Men, he was nominated against his own work on The Assassination of Jesse James by the Coward Robert Ford and that split bid lost to There Will Be Blood's Robert Elswit. Though the Best Cinematography category on the Oscar ballot lists the film's title, not the director of photography, it was hard for an in-the-know Deakins voter to determine which horse to back.
It will help, then, that Blade Runner 2049 is not just his solitary bid this year but a film that has a fighting shot at making the Best Picture lineup. The last time Deakins was nominated for a movie that was also contending for Best Picture was in 2010, for True Grit. He was edged out by winner Wally Pfister, who shot Christopher Nolan's Inception, and another Nolan movie, Dunkirk, is likely to be Blade Runner 2049's biggest competition this year for a host of technical awards, including Best Cinematography. Almost every bit as maximal and awe-inspiring as Blade Runner 2049, Dunkirk was also shot by a cinematographer who feels overdue for Oscar attention, though in this case it's because Nolan's director of photography Hoyte van Hoytema — who's done simply gorgeous work on films like Her, Tinker Tailor Soldier Spy, and Let the Right One In — has never even been nominated before.
Dunkirk is tipped by some to be this year's Best Picture front-runner, and that could spell bad news for Deakins: This is his best chance at Oscar gold in years, but he's up against another potential Best Picture winner with incredibly memorable cinematography. Still, I think voters who are moved by how well Dunkirk is brought off will vote in larger numbers for Nolan in Best Director than they will for van Hoytema, in part because Nolan is the only thing bigger than the films he makes. Villeneuve is well respected but possessed of a less-overweening profile, which has left room for Deakins to command nearly equal billing in reviews and, down the line, perhaps earn a greater tribute from the Academy. At the very least, he'll make Oscar do right by this franchise: Somehow, Jordan Cronenweth's incredibly influential cinematography for the first Blade Runner wasn't even nominated. If Deakins ever feels a little peeved at the Oscar losing streak that may soon come to an end, that omission ought to put things in perspective.