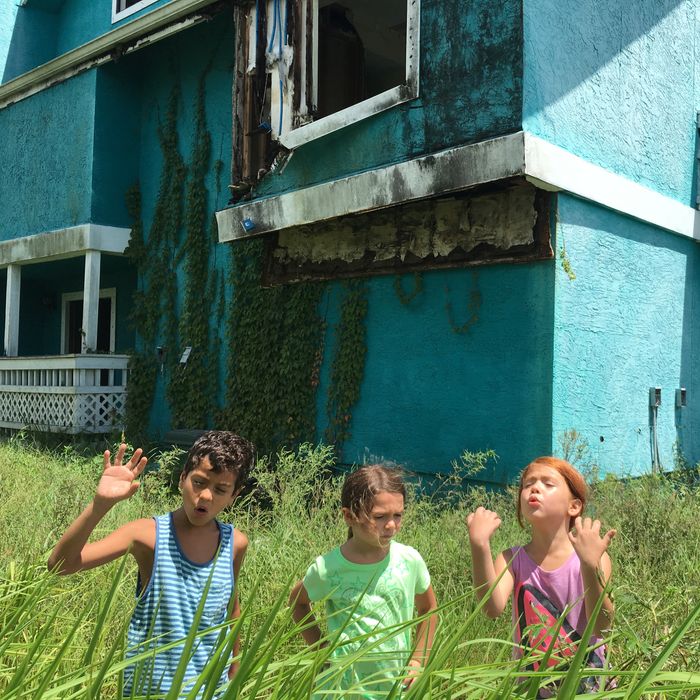 The Florida Project.
Photo: Marc Schmidt
The Florida Project kicks off with what feels like a wake-up call at summer camp, and is easily the most infectious opening moment of this year's Cannes so far. Against a backdrop of vivid lavender stucco and puffy white Florida clouds, three children scream a call and response that culminates with a rousing cry: "The freshness of the future!" It could have been swiped from a gum commercial or one of many garish billboards lighting up this stretch of Orlando that our young protagonists call home. And by all rights, it should be a terrifying battle cry: If the children of The Florida Project are our future, then something has gone seriously wrong in America. But in the moment, it's a dizzying breath of fresh air, and sets the mood for Sean Baker's brilliant, buoyant, and ultimately heart-wrenching film.
As with his breakout indie hit Tangerine, Baker's approach is to immerse you so deep in a place, and the patter of the people who live there, that it begins to feel like your home. The setting this time is the row of cheap motels surrounding Disney World, once a hub for budget-minded tourists and now a home for itinerant families. (The title comes from Disney's in-house name for the Orlando resort and theme park, but it finds some irony in the fact that the motels are basically housing projects.) The people who live there, at least the ones we stick with through most of the film, are Moonee, Scooty, and Jancey, three kids no older than 6, who run wild in the vacation wasteland, pestering everyone they encounter, blissfully unaware of the strife of the adults around them.
Moonee in particular is our heroine, and as played by Orlando local Brooklynn Prince, she's a consistently surprising dynamo; her onscreen electricity is reminiscent of Quvenzhané Wallis's debut in Beasts of the Southern Wild, with more swearing. Her one-liners are so spontaneously brilliant it's hard to tell where Baker and co-writer Chris Bergoch's work stops and Prince's own irrepressible stream-of-consciousness improv begins.
Which is a credit to director and star equally. Baker proved on Tangerine that he knew how to work to the strengths of his performers, whether professional or amateur, and that's even more evident here. Willem Dafoe is the film's one recognizable face, but he blends into the environs seamlessly as the endlessly understanding motel manager Bobby, the de facto father to the neighborhood children. The film adheres to the flighty, anarchic whims of its protagonists, this time tracking them in gorgeous 35mm shot by Alexis Zabe, whose day-glo Florida facades and pastel clouds fizz off the screen. As Moonee's mother (played with acerbic brio by Bria Vinaite) hits harder times, the clouds roll in, and the camera gets even closer to its subjects, as if to reveal worries we couldn't see at a distance.
But the film's finale, a more effective dream ballet than anything nominated for an Oscar this year, revisits Baker's digital-guerrilla style in a stunning escape to the Magic Kingdom itself. It's manic and beautiful, and a perfect, if impossible, resolution to Moonee's impossible situation. This is a near-perfect film, and a heightening in every way of everything that was great about Baker's last movie. The freshness of the future, indeed.