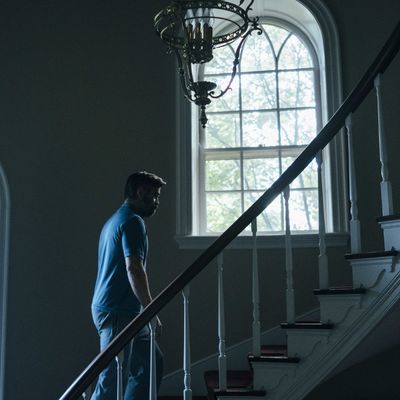 Colin Farrell in The Killing of a Sacred Deer.
Photo: A24
Cannes's competition lineup is typically light on genre fare, but at a certain point in Yorgos Lanthimos's The Killing of a Sacred Deer it's abundantly clear that the artful thriller you're watching has actually been a full-throated horror movie all along. In the tradition of Ringu or the Final Destination films, it first tells you what dreadful fate awaits its characters, then lets you spend the rest of the film agonizing over when it will go down. That's why, about midway through the film, during a stark wide shot, I found myself nearly covering my eyes in anguished terror when it seemed like a teenage girl was about to collapse on the floor.
The girl is Kim (Raffey Cassidy), the oldest child of Steven (Colin Farrell), a cardiologist and recovering alcoholic who has brought a curse of sorts on his family stemming from the fate of a former patient. When the film opens he's meeting with a teenage boy named Martin (a deeply unsettling Barry Keoghan), whose relationship to Steven leaves us dreadfully uncertain for a while — is he a son from another mother? A lover? Neither, it turns out, but they've nevertheless been drawn together both by tragic circumstances and Martin's own psychotic willfulness. When Steven starts to neglect Martin, the boy "retaliates" with a mythical sort of revenge of a supernatural nature, which, in typical Lanthimos fashion, is never quite explained: Steven's family will die, one by one, in stages. First, they become paralyzed from the waist down — hence that dreadful collapse I was waiting for — then they stop eating, then their eyes bleed, then they die. (Insert joke about similar side effects on day six of Cannes.)
Lanthimos has excelled at bizarre violence and general off-ness before (including his English-language breakout The Lobster), but here he's flexing his talent for genuine scares, and he turns out to be quite good at it. Perhaps it feels a little counterintuitive, given that these characters for the most part speak in the director's trademark dry banalities (with some variation — Nicole Kidman as Steven's wife, Anna, is a desperately needed island of sanity). The dialogue is wrapped in quotation marks, which serves as both a hedge for the mechanics of the curse, and a buffer for the film's more brutal moments. Not to bludgeon an overused word of late, but it's a very Lynchian route toward dread: Wrap it all in a dream so as to sink even further into the abyss.
By the time Steven and Anna's son Bob (Sunny Suljic) is dragging himself across the family's living room floor, broken but preternaturally resigned to his fate, the absurdity and the horror are working in tandem to build to something uniquely chilling, a portrait of a family literally melting due to the sins of father. The cinematography, by frequent collaborator Thimios Bakatakis, is exquisitely icy and built on long, slow pushes and pulls. I'm not sure if Lanthimos has much to say here that hasn't already been said by Luis Buñuel or Michael Haneke (at this very festival, no less) or any other bards of bourgeois hypocrisy, but still: To see an unfettered nightmare like this from such an idiosyncratic director feels like a cruel treat, and a welcome stylistic stretch.