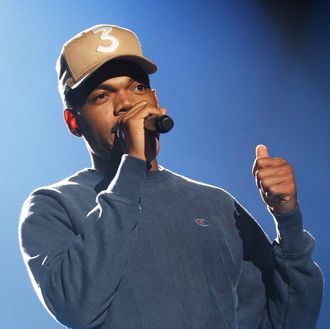 Chance.
Photo: Tommaso Boddi/Getty Images for EIF
Look, okay, comedian Paul F. Tompkins didn't really plan to ask Chance the Rapper's permission to pursue his interest in tap dance. But then, he did inadvertently ask the Coloring Book rapper and music group Francis and the Lights for their thoughts, and Twitter etiquette dictates your must wait until the celebrities you accidentally @ in your conversations to rubber-stamp your ideas.
"Okay just waiting for chance & Francis to sign off since I just noticed I left them tagged in my tweet to you," the comedian wrote after sending the same question to Busy Philipps, who is, of course, the third celebrity who has to green-light any and all decisions regarding tap dance. Luckily Chance, Francis, and Busy all approved the plan, so Paul F. Tompkins can go nuts. Going forward, this will be the official process by which any comedian finds out if he or she is allowed to try and tap dance. If Chance the Rapper and Busy Philipps find out you've been tap dancing without their knowledge, God alone can help you.