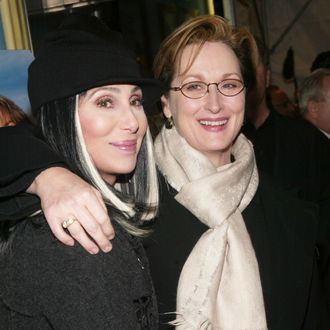 This is a very weird
Silkwood
sequel.
Photo: Evan Agostini/Getty Images
As if having the best sequel title in recent memory weren't enough, the gay fantasia that is Mamma Mia: Here We Go Again has also managed to land Cher. The singer slash actress slash future subject of a Broadway musical has joined the cast of the movie, out July 20, 2018, which will reunite Meryl Streep, Colin Firth, Amanda Seyfried, Christine Baranski, and Pierce Brosnan. The sequel will also include flashback sequences with younger versions of their characters, led by Lily James as the young version of Meryl's Donna.
Update: The New York Post reports that Cher will, in fact, be playing Meryl's mother in Here We Go Again. Okay, technically she'll be playing Lily James's mother, as Cher's appearances are all going to be in the flashback portions of the film, where she presumably counsels the young Donna on matters of love and glitter. But if the former Silkwood co-stars aren't going to share scenes together, the press tour will be perfection.