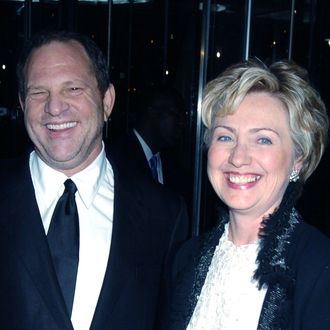 Photo: Theo Wargo/WireImage
In an interview with CNN's Fareed Zakaria on Wednesday, Hillary Clinton said she will donate the money she received in campaign contributions from disgraced Hollywood producer Harvey Weinstein to charity. When asked if she would "give the money back," Clinton answered:
"Well, there's no one to give it back to. What other people are saying, what my former colleagues are saying, is that they're going to donate it to charity, and of course I will do that."
"I give 10 percent of my income to charity every year," she added. "This will be part of that, there's no doubt about it."
Weinstein, who is accused of allegedly assaulting dozens of women over the course of decades, has been a major Democratic donor for many years. In 2016, he contributed the maximum personal donation of $5,400 to Clinton's 2016 campaign, and according to CNN, Weinstein has raised about $1.5 million for Democrats over the course of Clinton's political career.
In addition to campaign contributions, Clinton and Weinstein were personally close. The former presidential candidate said that she "probably would have called" Weinstein a friend, and she and Bill reportedly even rented a house next to Weinstein in the Hamptons in 2015.
In the interview with CNN, Clinton said she was shocked when she heard about the allegations against the powerful producer, which were detailed in lengthy reports by the New York Times and The New Yorker.
"I was appalled. It was something that was just intolerable in every way," she said. "And, you know, like so many people who've come forward and spoken out, this was a different side of a person who I and many others had known in the past."
Still, some saw Clinton's denouncements of Weinstein as lacking. In a tweet Wednesday night, celebrity chef Anthony Bourdain called the interview "a disappointment."
Bourdain is currently dating Asia Argento, an Italian actress and director who has accused Weinstein of sexual assault.
"I can assure you that the victims of Mr. Weinstein's three decades of predatory behavior are disappointed too," Bourdain wrote in another tweet. "I'm sitting next to one."