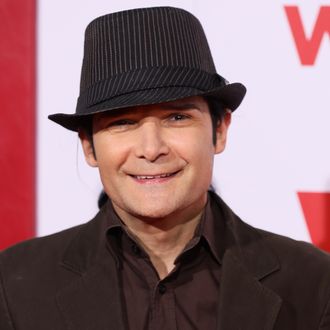 Feldman.
Photo: JB Lacroix/WireImage
Corey Feldman is calling for an investigation into the sexual abuse of child performers in Hollywood, a problem the Stand by Me actor says is prevalent and industry-wide. He recounted his own molestation, as well as that suffered by his friend Corey Haim, in his 2013 memoir, and in a 2016 Hollywood Reporter interview he said this of the abuse: "Ask anybody in our group of kids at that time: They were passing us back and forth to each other." Now, in the wake of the sexual-harassment and assault allegations against producer Harvey Weinstein, Feldman has launched the "TRUTH Campaign" in an attempt to expose pedophilia in the entertainment industry with a documentary about his life and his personal experience with abuse. "What I am proposing is a plan that can literally change the entertainment system as we know it," Feldman says in the campaign announcement video. "I believe that I can also bring down, potentially, a pedophile ring that I have been aware of since I was a child."
In the video accompanying his project's Indiegogo page, the actor expresses his willingness to name names, having previously declined to identify abusers known to him for fear of legal ramifications. "Right off the bat, I can name six names, one of them who is still very powerful today," Feldman says. "And a story that links all the way up to a studio. It connects pedophilia to one of the major studios." In addition to donations, the actor asks for his fellow child performers to come forward with their stories of abuse. "I've lived in shame and fear my entire life, and so have millions of others, and now we have the ability to let our voices be heard and break the dam of silence," Feldman says. The actor has previously claimed he reported his abuse to police in 1993 but, in his words, "they did zero" to pursue the case.