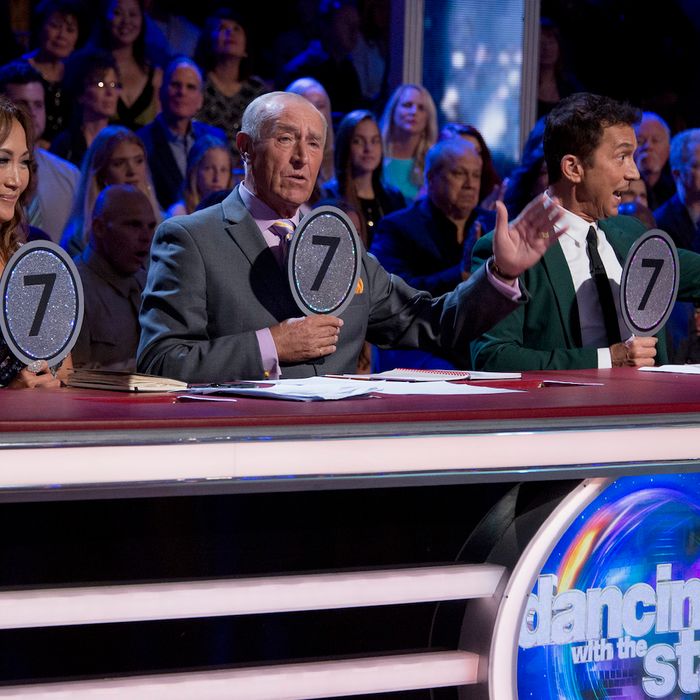 Photo: Eric McCandless/ABC
It's 8 p.m. on Monday night, and that means I'm back on my couch, ready to watch Dancing With the Stars. I have everything I need for the next two hours: a bowl of popcorn, a big glass of unsweetened iced tea, and a box of tissues to weep into in case Terrell Owens gets voted off. It's go time!
Tonight is Most Memorable Year Night, which means the contestants will dance to commemorate meaningful experiences in their lives. Hmmm, what life-changing experience would I choose if I were on the show? My marriage in 2010? Nah. My sold-out Carnegie Hall show in 2008? Nah. It would probably be 2012, when I squeezed into a pair of size-six capris for the very first time. But enough about me! Let's get to the show.
First up is actor Frankie Muniz doing the quickstep. In Frankie's intro video, he reveals that, because of multiple concussions and mini-strokes, he suffers from memory loss and can't remember many parts of his life. Let's hope one of the things he can't remember is Agent Cody Banks. The year he has chosen is 2017, because it's the year he learned to live in the present. Oy, I'm glad I have this box of tissues! It looks like it's gonna be one of those nights.
Head judge Len Goodman says Frankie's quickstep reminds him of his mother's Yorkshire pudding. Not I, nor anyone viewing, has any idea what that means. Luckily, Frankie managed to remember his dance steps well enough, because he gets three eights for a score of 24.
Next is former NFL star Terrell Owens. His year is 2012, the year his grandmother died. In his video, he talks emotionally about the woman who raised him and her battle with dementia. Tissue time. He starts crying, I start crying. I also get a little hot. Hey, don't judge me! We all handle grief differently.
Now he's crying after his Viennese Waltz. Now I'm really hot. Terrell also gets three eights for a score of 24.
WWE star Nikki Bella chooses 2016, the year she made her comeback in the wrestling ring. After sustaining an injury that nearly paralyzed her and pulling through risky neck fusion surgery, she worked diligently and climbed back into the ring seven months later. It was incredibly brave and, if you ask me, a little stupid. If any job I had made me almost end up in a wheelchair, I'd say screw that and start driving for Uber. She does a contemporary dance, and the judges love it. They give her — you guessed it — three eights for a score of 24. I'm beginning to think somebody misplaced all the other number paddles.
Here comes singer Nick Lachey. He chooses 2011, the year he married Vanessa. Nick gets a rousing full-audience standing ovation for his dance. I guess a dead grandmother and a broken neck wasn't enough for them. Somebody must have found the seven paddle, though, because Nick got two sevens and an eight for a score of 22.
Violinist Lindsey Stirling's choice is 2016, the year her father passed away. Suffice to say, there is a lot of weeping in Lindsey's video. It's only the fifth dance in, and I'm already out of tissues. She does a Viennese waltz and raises the bar for the other contestants by crying before, during, AND after her dance. I'm now wiping my eyes with popcorn, which makes me cry harder, because now I have salt in my eyes.
Len says the dance reminds him of a Banksy painting. I'm beginning to think that Len ought to ask Frankie for his concussion doctor's number. Lindsey kicks ass and receives nine, eight, and nine for a 26.
During the next commercial, I rinse the salt from my eyes and grab some paper towels in preparation for the next tear-jerker story.
Here comes former basketball star Derek Fisher, who picks 2007, the year his 10-month-old daughter was diagnosed with eye cancer. She's okay, thank God, but I don't know how much more of this I can take. If I wanted to cry this much, I'd binge-watch This Is Us.
I hate to say it because he's a good-looking guy and his kid almost lost an eye, but Derek's not a very good dancer. Surprisingly, Len likes his jazz dance performance, so that confirms my previous concussion diagnosis. Derek's score is seven and two eights for a 23.
Adorable Jordan Fisher is up next and chooses 2005, the year his grandparents adopted him because his mother had a substance-abuse problem. Yup, more crying in his video. A lot more. Then Jordan does a contemporary dance that made ME want to adopt him too.
Carrie Ann Inaba has been crying throughout the show, and is so visibly moved I try to hand a paper towel to her through the TV screen.
Jordan's brilliant dance earns him a ten, nine, and ten for 29. Those are the first tens of the season, which proves that if you want your child to succeed, give him to your parents.
Throughout these emotional proceedings, host Tom Bergeron hasn't shed a tear yet. He's either a consummate professional or a soulless robot of a man. I'll give him the benefit of the doubt and go with "professional."
Here comes Sasha Pieterse to do a foxtrot. She chose 2016, the year her TV show, Pretty Little Liars, ended. Wow, losing your job. That's tough luck, Sasha. Not eye-cancer or dad-dying tough, but tough. At least her story gives me a break from crying. My couch cushions were getting squishy. In spite of her non-weepy story, Sasha danced well and got three eights for a 24.
Next up is Vanessa Lachey. Her video is about her baby with Nick and the health challenges their newborn faced. At this point, I've given up on the dancing and am mentally rating the pre-dance videos. This one has Vanessa crying, Nick crying, and a baby in an incubator. I give it a solid 8.5 on the cry-o-meter. Vanessa does a rumba and cries throughout the dance. Nick is crying, too, but probably because he knows she's gonna get a better score than he did. She gets three eights for a 24, two points more than her hubby.
You may have noticed that I haven't mentioned judge Bruno Tonioli yet. That's because he's been suspiciously sedate this evening. Is it because Tom Bergeron took my advice from last week's recap about slipping a couple roofies into Bruno's water glass before the show? If so, you're welcome, America.
Next up, Drew Scott. Drew picks 2007, because that's when he left his successful real-estate business and moved to Vancouver to live his dream of making it as an actor in show biz. VANCOUVER? To become an ACTOR? That's like going to Apex Technical to become a doctor.
Drew dances jive and his twin brother, Jonathan, joins him in this dance. I spoke too soon about Bruno. He has suddenly perked up and makes a couple of sexual innuendos about the dance. I'm hoping he takes another sip of "water." Again, the score is three eights for a 24. Obviously, those other scoring paddles have gone missing again. This episode has had more eights than a Hollywood casting call for a "plain Jane type."
Last, but definitely not least, is Victoria Arlen. You don't have to be Nostradamus to know that this one is gonna be a three-hankie story. And I'm right. After years of being totally paralyzed, unable to move or speak, Victoria began to make a miraculous recovery. Despite all odds, she slowly became fully mobile and is now living her dream of performing on Dancing With the Stars. Great! I'm out of paper towels. Victoria does an amazing foxtrot, and scores three nines for a 27.
Now, it's Elimination Time! First couple in danger: Nick and Peta. Second couple: Derek and Sharna. Okay, Terrell's safe. I don't need to go to the kitchen for more towels.
Derek and Sharna are eliminated. Now, if you'll excuse me, I have to find some comfort food and call my therapist.
Lisa Lampanelli can be seen in her play, Stuffed, at the Westside Theatre in New York City. For tickets, go to stuffedplay.com.