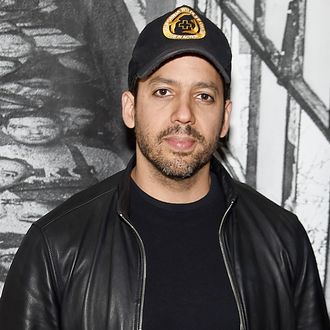 Blaine.
Photo: Jamie McCarthy/Getty Images
Magician David Blaine has been accused of raping a former model more than a decade ago. The Daily Beast reports that police in London are investigating a claim made by Natasha Prince that Blaine allegedly raped her at a private home in Chelsea during the summer 2004, in the months after she turned 21. In a statement from Blaine's lawyer to the Daily Beast, he has denied the allegation and says he's never "raped or sexually assaulted any woman, ever." Scotland Yard has confirmed that Prince reported the rape to the police in November 2016 and that there "have been no arrests at this stage and enquiries continue." (There is no statute of limitations on sex crimes in Britain.) They've reportedly requested that Blaine return to England to be questioned. Blaine's lawyer says the famed magician will "fully cooperate because he has nothing to hide."
According to Prince, she met Blaine at a club and he invited her for drinks at a mansion the following day. There, Prince says Blaine offered her a drink then brought her to a bedroom where he forced her to finish the drink and allegedly proceeded to rape her. Prince doesn't recall much of what happened after she drank the cocktail, saying, "I was limp, and I was very floaty; I was in and out of a deep sleep" during the incident. "When I woke up, I was very relaxed — very stoned," she remembers. On a shoot the next day, Prince says she felt "hazy and completely out of it" and could not remember consenting to sex with Blaine or how she got home.
A month later, she says Blaine called her to check up on her but that "he sounded very creepy, and it made [her] feel a bit bullied." The next year, she says she ran into Blaine at a party where he allegedly told her, "You were really good in bed." Six years later, Prince says she bumped into Blaine on the subway in Manhattan, and he then showed up at the art gallery where she works the next day to check up on her again. Blaine's lawyer disputes that account, telling the Daily Beast it was Prince who approached Blaine and invited him to her gallery. Since the alleged rape, Prince says she suffered from anxiety, quit modeling, and sought treatment to get sober. She says she didn't initially go to the police because she had blamed herself for the incident. Prince now says, "I want him to know that I'm not stupid, and I know what happened."