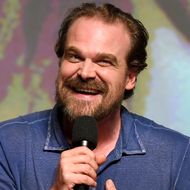 Do you love Stranger Things? Of course you do. But you probably don't love it as much as Sheriff Jim Hopper himself, David Harbour, loves being in it. You may recall his bellowing, impassioned speech at this year's Screen Actors Guild Awards after the show won Outstanding Performance by an Ensemble in a Drama Series, but he's keeping the love alive all year long via his Instagram, which is a steady stream of dad-Gram style Stranger Things appreciation posts. First, there's his love of co-star Winona Ryder, whom he describes as "amazing/sexy/iconic," "one of the greatest movie stars of all time," "beautiful, beyond talented," and in honor of the Women's March back in January, as one of the badass "nasty women" who inspire him every day. He is loving Ryder more than life.
What about Stranger Things is Harbour most excited about right now? That would be posting silly photo splits of his younger self next to Joe Keery, implying that his young co-star is but a cheap knock off of him back when he had a grand feathered mane of his own.
And when he's not ribbing Keery, Harbour is doing cute things like posting photos of himself giving face hugs to Hawkins's favorite reformed bratty rich boy.
During the first season, Harbour posted frequent grams of Millie Bobby Brown engaged in some shenanigans with him, so hopefully there isn't any on-set tension now that he's putting so much social media attention on Keery. Surely everyone who works alongside Harbour wants to the focus of his dad jokes on the internet.
Get all your Stranger Things 2 questions answered at the show's Vulture Festival LA panel on November 18! Tickets available here.