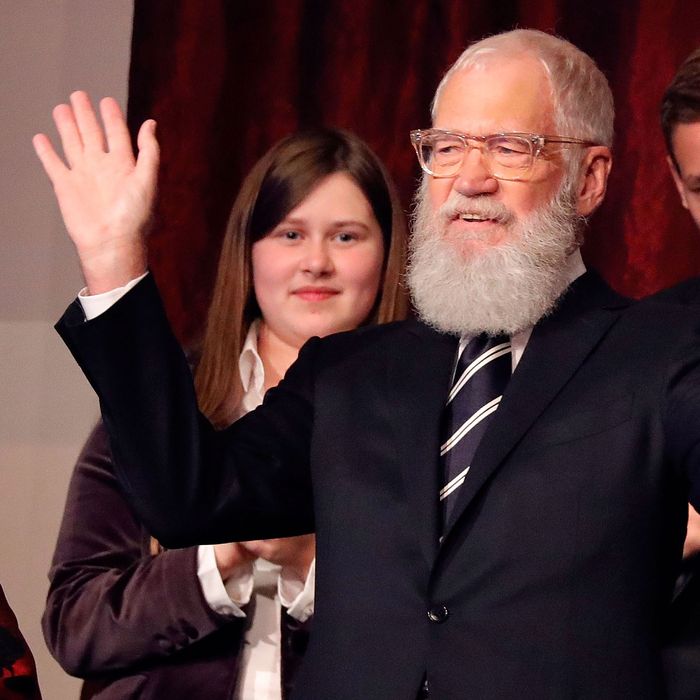 Honoree David Letterman waves from the balcony during the 2017 Mark Twain Prize for American Humor at the Kennedy Center on October 22, 2017, in Washington, D.C.
Photo: Paul Morigi/Getty Images
"How long were you in Cairo?"
David Letterman is on the red carpet at the Kennedy Center in Washington, D.C., walking by a gauntlet of reporters who gathered Sunday night to ask him how it feels to receive the Mark Twain Prize, an honor bestowed annually on influential comedians. But even though this night is about him, Letterman can't stop himself from doing what comes most naturally, and what, in part, made him such an exceptional late-night talk show host: displaying an interest in the person standing in front of him.
In this case, that happens to be a reporter for the Associated Press, who is supposed to be interviewing Letterman but has had the tables turned on him.
"About 15 years," the reporter replies to the Cairo question.
Letterman: "Whoa. And so when did you arrive back here?"
Reporter: "Two months ago."
Letterman: "So what is that? That's whiplash, isn't it?"
Reporter: "Incredibly surreal."
Letterman: "Do you have a family?"
Reporter: "Yeah, two young kids."
Letterman: "They had lived with you in Cairo."
Reporter: "Two girls, born in Cairo."
Letterman: "Now they're in the United States. How old are the girls?"
The questioning continues while a gaggle of journalists look on, so fascinated that they don't even try to interrupt. This is Letterman, showing us all that he's just as good at reporting as he is at telling jokes.
That incident — in which the former host of The Late Show flipped red-carpet protocol on its head for a couple of moments — is emblematic of the entire Mark Twain Prize ceremony, which followed the traditional format for such formal lifetime achievement celebrations, but, in keeping with the Letterman sensibility, also refused to be too much about how great Dave is.
During the tribute — to be broadcast Monday, November 20, at 8 p.m. on PBS — multiple jokes were made about Letterman's post-retirement beard.
"He's always had spot-on comedic instincts," said Steve Martin, one of several stars honoring Letterman. "What better time than now to insist on looking like a Confederate war general?"
Opting for more Tom Hanks–flavored humor, Amy Schumer said Letterman currently "looks like he should be telling jokes to a volleyball."
Schumer — who noted that her first thought on being asked to participate in the ceremony was, Wow, Tina Fey must be slammed — was the only woman on the roster of celebrities honoring Letterman, which also included Bill Murray, last year's Twain Prize recipient; Norm MacDonald; Senator Al Franken; Jimmy Kimmel; John Mulaney; Martin Short; Eddie Vedder, who did a lovely cover of "Keep Me in Your Heart" by Letterman favorite Warren Zevon; Fred Armisen and Bill Hader, who pre-recorded a segment in the style of their IFC series Documentary Now!; and Jimmie Walker, who gave Letterman one of his first jobs in the '70s, writing jokes for Walker's stand-up comedy sets. The event was also a Letterman late-night reunion of sorts: announcer Allen Kalter acted as emcee, Paul Shaffer and the World's Most Dangerous band provided the music, stage hand Biff Henderson made a brief appearance, and so did regular Late Night With David Letterman contributor Chris Elliott, who showed up to participate in a top-ten list during which, bless him, he did a bit vaguely reminiscent of his famed banana dance.
In keeping with Letterman's tendency to speak with blunt honesty, the lack of diversity, both in the talent slate and the audience itself, were acknowledged.
"It says a lot about America," said Short, "when different people of different white backgrounds can gather together …" There was more to the joke, but I couldn't hear it because all the white people in the audience were laughing too loudly.
Letterman's legacy was certainly acknowledged — Franken referred to him as "the innovator who changed late night forever" — but a touch of cold water was thrown on his status as a truly original genius, too.
"Steve Allen did some of that stuff," said Mulaney, referring to Letterman's talk-show bits. "But if Steve Allen was so great, why is he dead?"
Even the importance of the Twain Prize itself was exaggerated to the point of absurdity. Bill Murray, the holder of the Twain crown who was prepared to pass it on to Letterman, took that idea extremely literally, entering the Kennedy Center Concert Hall in the middle of the audience while dressed in full Elizabethan royal regalia.
After discussing the perks of the job and demanding that a servant bring him a sandwich, he demanded that food also be served to everyone in Letterman's section of the balcony, which it was. "Harry," Murray said to Letterman's now-teenage son, seated next to the honoree. "I want you to be a generous prince." Murray then insisted that Harry throw a pickle or at least a piece of tomato down to the crowd below. Harry resisted at first, but finally, with his father's encouragement, tossed what appeared to be a slice of dill down to those in the orchestra seats below.
The numerous clips of Letterman's work throughout his 33-year late-night career emphasized a lot of his signature material, including his penchant for pranks (his brief stint as an undercover Taco Bell drive-through employee was included, as was one of his many rounds of dropping stuff from the top of a building), his Stupid Pet Tricks, and his collaboration with his late mother, Dorothy Mengering. What the clips didn't quite capture was what he displayed on the red carpet: his brilliance as an interviewer. Former First Lady Michelle Obama spoke to that when, via a taped tribute, she praised him for being "whip-smart" and "curious" about all aspects of life.
Obama's appearance wasn't the only political aspect to the evening. When Mulaney mentioned President Barack Obama in passing during his remarks, the Kennedy Center audience spontaneously applauded. When he noted that not everyone was applauding — "What, some of you are still on the fence?" — he said Barack Obama's name again to even louder applause. This stood in contrast to the response earlier in the evening, when Kennedy Center chair David Rubenstein mentioned Betsy DeVos's name while reading a list of donors and sponsors and a noticeable "Boo" rippled through the audience.
Jimmy Kimmel was much more direct in his condemnation of the current administration, pointing out that since Letterman retired on May 21, 2015, "the world has gone to complete and utter — are we allowed to say 'shit' on PBS? Shit."
"You went out for a pack of cigarettes and left us with an orange stepfather," he later added.
On the red carpet, Letterman was open about his desire to interview President Trump on his upcoming Netflix series, but seemed dubious that it would ever happen. "What do you think the chances of that are?"
When I asked him what he would ask Trump if he got the opportunity to sit down with him, he said, "It's hard for me to recognize him as the president. I still recognize him as Don, and he would come on the show and I would make fun of his hair. So that would be the base of my strategy. I would just say, 'Don. What the hell's going on here?'"
But when it came time to receive his prize at the end of the night, Letterman didn't say much about Don or even about himself. He spent most of his speech praising all the people who had performed in his honor — "Eddie Vedder comes out here and breaks my heart''; "Wouldn't you like to drive cross-country with Norm MacDonald?"; "Jimmy Kimmel, the man that got more done in Congress this year than anybody." And when it came time to say something vaguely political, he let someone else — Mark Twain — speak for him, by repeating Twain's definition of patriotism as his closing words of the night: "Patriotism is supporting your country all the time, and your government when it deserves it."