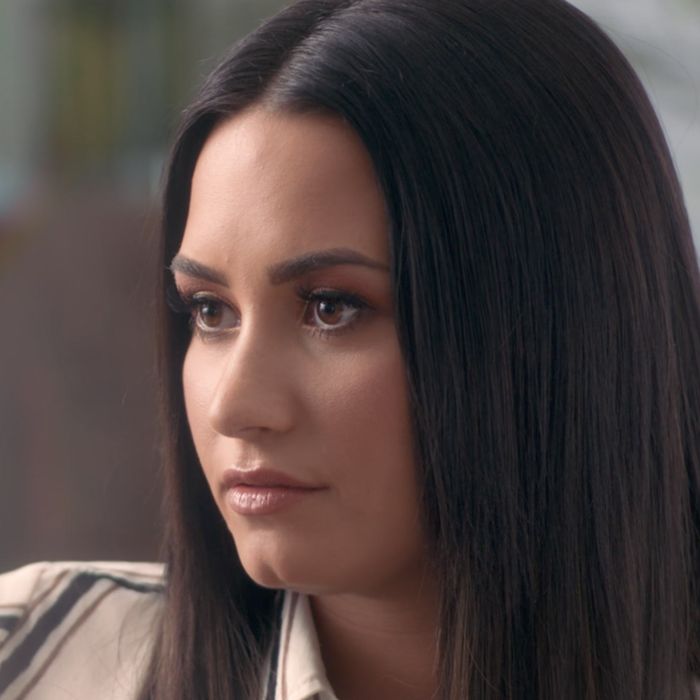 The last time Demi Lovato made a documentary, she was high on cocaine. Now sober, she confesses to this at the start of the latest documentary about her: Simply Complicated. In her first doc, 2012's Stay Strong, we followed Demi's recovery after a stint in rehab at 18 for drugs, self-harming, and an eating disorder; she'd been admitted after publicly assaulting her backup dancer. But unbeknownst to almost everyone around her, as well as the people who watched the film at the time, she wasn't clean while filming it. "I was either craving drugs or on drugs," Lovato now admits.
Simply Complicated, she says, is both an apology to her fans for not being forthright about her continued drug use in Stay Strong and, finally, an explanation. For the first time, she's divulging the truth in explicit detail about the severity of her addiction at the height of her overnight fame when she was a teenager. As told by Demi, her manager, her specialist, and even Nick Jonas, here's what we learned about Demi's self-described "breaking point."
She did cocaine for the first time at 17.
Seeking a way to fit in after years of bullying at school, a popular student advised Demi to start partying. Drinking escalated to drugs, and Demi says she first tried cocaine at 17 around the time she was working for the Disney Channel. She'd been warned by her mother that it could stop her heart, but "did it anyways." "I loved it," she recalls. "I felt out of control with the coke the first time that I did it." Lovato attributes the feeling to her birth father's own addictions. "I guess I always searched for what he found in drugs and alcohol because it fulfilled him and he chose that over family," she says.
Nick Jonas thought he'd gotten Demi's substance abuse under control.
While sucked into the Disney Channel vacuum after two shows and a hit movie, Camp Rock, Demi's team says she began to crack under the pressure of being positioned as a teenage role model. Her frequent co-stars, the Jonas Brothers (Demi was dating Joe Jonas at the time), attempted to intervene. Nick Jonas, who remains her close friend, thought he'd helped her get back on the wagon without realizing it was already too late. "I felt a bit of pride about it. Selfishly, maybe I thought I'm helping her come back to being the Demi we all know and love. She's not gonna do anything crazy and it's gonna be fine," he says. "And then this episode happened …"
She punched her backup dancer for revealing her Adderall use.
In 2010, Demi Lovato made headlines for punching her backup dancer Alex "Shorty" Welch on a plane, and entered rehab shortly thereafter. Demi reveals what sparked the assault for the first time in Simply Complicated: While touring Camp Rock 2 in Colombia, she says she arranged a hotel rager with her band and dancers where alcohol and marijuana were present, and during which she took Adderall. After the hotel staff questioned her dancers about the trashed room, word got back to Demi's team, as well as the Jonas Brothers' father, about her drug use. Demi says she "manipulated" Kevin Jonas Sr. into telling her who blabbed. "I remember thinking, I'm about to beat this bitch up," Demi says. The discovery prompted Demi to rush past her team on the plane and deck Welch.
Demi wasn't sober after rehab.
Though Demi's team says she emerged from treatment with a "glow," it faded fast. "I wasn't working my program. I wasn't ready to get sober," she now admits. "I was sneaking [drugs] on planes, sneaking it in bathrooms, sneaking it throughout the night. Nobody knew." She describes the two months that followed rehab as a "bender" where she abused drugs daily. A cocktail of cocaine and Xanax one night nearly turned deadly: "I started to choke a little bit and my heart started racing," she says. "I remember thinking, Oh my god, I might be overdosing right now." Her manager, Phil McIntyre, recalls Demi doing interviews about her sobriety while high. "She was on air promoting this new way of life," he says, "and I was like, 'you're so full of it.'" Ill-equipped to deal with this level of addiction, he brought in specialists. "Demi was on the road to suicide," one says. "She'd have bags of pills and an eight ball of coke." Demi says her behavior deteriorated to the point that she became too volatile to work with and was sneaking drugs under the watch of her "sober companions" — so much so that she went through 20 of them.
She was hospitalized for drugs and admitted to a psych ward.
While in Palm Springs, Demi's specialist says she had to be hospitalized after locking herself in her bedroom and ingesting pills. "The nurse is checking her in, the bottle of pills is there, she grabs the pills, she then downs all the other pills," he remembers of the incident, "and says, 'You fucking bitch, if I just tried to kill myself, why would you give me access to pills?'" She was then admitted to the hospital's psychiatric ward, but remained unfazed by the experience and refused to get clean. "I didn't feel anything. I didn't feel guilty, I didn't feel embarrassed," she says. Demi admits she continued to sneak drugs and faked drug tests with other people's urine. "I'd lie straight to their faces," she says. "It's embarrasing to look back at the person I was."
The last time she ever drank, she performed hungover on American Idol.
At her lowest, Demi says she invited two "random people" to her hotel room and got "really, really drunk" with them before a flight. "I was so drunk, I vomited in the back of the car service on the way to the airport to perform on American Idol," she says. Her manager recalls her being hungover for the entire performance, in 2012. "I felt like that was a moment in my career, where I didn't care," she says. "I just knew that I needed to be high to get through whatever I was going through that point."
She got clean after her management threatened to drop her.
Her manager arranged a phone call with her entire team — agents, business managers, attorneys — informing Demi that they would be quitting immediately if she didn't get help. "It wasn't a matter of if they're going to leave, it was they're leaving," she says. "'There's nothing more we can do for you.'" At her specialist's request, she handed over her cell phone — to cut off her access to drug dealers and bad influences — but not before smashing it on a plate and submerging it in a vase of water. Her manager still has the destroyed phone, seen in the doc. "It was the beginning of the process of surrendering," she says.
She spent her first year of sobriety judging X Factor.
At 19, Demi took a job hosting X Factor. But in her personal life, the entire time while on the show she was residing in a sober apartment, sans access to a phone, with two roommates helping her get clean, assisted by her manager and specialist.
Demi is still battling an eating disorder.
Though sober for five and a half years, Demi reveals she recently suffered a relapse with her eating disorder. She believes the relapse was brought on by the end of her six-year relationship with Wilmer Valderrama, in 2016. In that relationship, Demi says she went three years without purging, but relapsed shortly after the breakup. "When I feel lonely, my heart feels hungry and then I end up bingeing," she says. "And I don't know how to figure out how to be alone." Demi says she has a longer history with her eating disorder than her addiction to drugs and alcohol, due to stress and anxiety that developed as a child when she was subjected to intense bullying. She believes the disorder began after a group of "pure fucking evil" girls at her school started a campaign urging her to commit suicide. "Food is still the biggest challenge in my life," she says. "I don't wanna give it the power to say that it controls my every thought, but it's something I'm constantly thinking about." She says her ongoing treatment involves therapy, addiction programs, and a newfound passion for boxing.