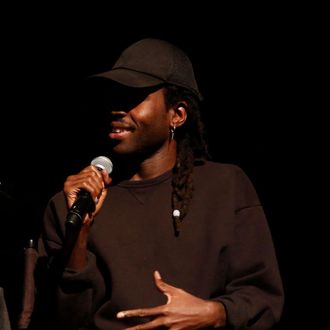 Photo: Thos Robinson/Getty Images
Last night, at The New Yorker Festival, Devonté Hynes, who records as Blood Orange, sat down with the The New Yorker's Hua Hsu to discuss a range of topics including his early career, his move to New York, and his politically charged album Freetown Sound, which Hsu reviewed in July last year.
Most notably, Hynes, whose genre-bending sound (and killer dance moves) has permeated much of recent pop music, through his collaborations with Solange, Sky Ferreira, Carly Rae Jepsen, and more, also discussed his plans for his upcoming album, which he said is "78 percent done."
Hynes has been a staple of New York's music scene over the last decade, and his upcoming project will focus on his upbringing just outside of London, in Essex County. "A lot of the new songs on the new album deal with growing up and childhood in England," he said. "Looking at the country that made me."
Essex County, Hynes said, was not an easy place for a child of two immigrant parents. His mother is from Guyana and his father is from Sierra Leone. "It's one of the only places in England where the BNP, which is the British National Party, a.k.a. the racist party — 'Keep Britain White' was one of their campaigns — were constantly elected in power," he said. He was bullied, and remembers crossing the road every time he saw a Union Jack in the window of a pub.
"If Freetown was delving into my parents from my eyes, being younger and now," Hynes said, "this one is definitely me looking at my younger self, growing up in that setting. So yeah, it's a little dark."