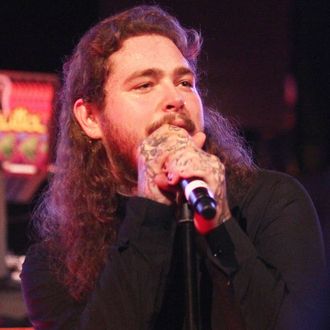 Post Malone.
Photo: Tommaso Boddi/Getty Images for Republic Record
This week, Cardi B's run at No. 1 on the Billboard Hot 100 abruptly came to an end. Not because Taylor Swift launched a sneak attack with a new song, and not because Logic's suicide-prevention anthem went viral. Rising above them all this week is perhaps the least likely contender: Post Malone and 21 Savage's sedated "Rockstar," the first No. 1 hit for both rappers. Despite a tepid response from critics (some who believe the song takes questionable liberties with its Southern trap influences, given Malone is white), the track has proven to be a winner for Malone. But, as Fader now reports, his label is reaping most of the benefits.
Contributing to the song's success is a video Republic Records uploaded to YouTube on September 21 supposedly streaming the song. Instead, it's a deceptive marketing hack — a looped version of the song featuring only its catchy chorus, clocking in coincidentally at the same 3:38 length as the full-length version of the song. Sources tell Fader that every single stream of this loop counts toward the song's position on the Hot 100; it has 41.8 million views at time of publication. There's no official version of the full song on YouTube to be found on either Republic's channel or Post Malone's, meanwhile a Google search of the song turns up the loop first. That version links out to a landing page where you can listen to the full song on outside streaming services like Spotify, where it currently has over 205 million streams.
It's possible, then, that people clicking on the loop expecting to hear the whole thing (its title makes it appear that you would) might unknowingly have given the song a boost on the charts without the full commitment; generally, labels will release snippets and teasers of songs on YouTube, not loops, and advertise them as such. (Vulture has reached out to Republic for comment.) It was recently reported that Billboard is considering counting YouTube streams on its album charts, potentially giving labels all the more reason to find loopholes.