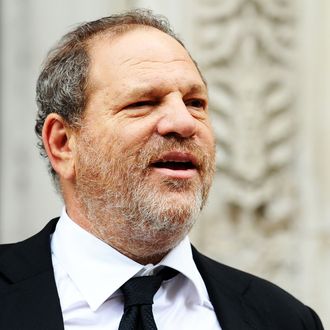 Harvey Weinstein.
Photo: Stuart C. Wilson/Getty Images
As dozens of women accuse Harvey Weinstein of sexual harassment, and in some cases assault and even rape, it has become clear that the disgraced mogul's habits went hand in hand with his business practices. Director Michael Caton-Jones, who was set to direct the 1998 film B. Monkey, told BuzzFeed News that Weinstein forced him off the film and recast the lead role because Weinstein decided the actress wasn't "fuckable." Caton-Jones had chosen Sophie Okonedo to star in the thriller, which was being produced by Miramax. "Harvey kept saying to me, 'Do you think she is fuckable?'" Caton-Jones said of the decision-making process. "That was what the deal was all the time. I said, 'She is the best actress for the job, Harvey.' And we started arguing about it. It was only when I said to Harvey, 'Don't screw up the casting of this film because you want to get laid,' whereupon he went mental."
Caton-Jones claimed that after their conversation Weinstein leaked the story that Caton-Jones had walked off the set of the film to Variety, essentially forcing him off the film. Caton-Jones claimed that he tried to tell the trade publication his side of the story, including harassment claims against Weinstein, and that "they just laughed." Weinstein then replaced Caton-Jones with Michael Radford and Okonedo with Asia Argento. Argento was one of three women who accused Weinstein of rape in The New Yorker's story on him, saying that he sexually assaulted her in 1997, and that, near the release of B. Monkey several months later, she felt "obliged" to submit to his continued advances, noting, "I felt I had to, because I had the movie coming out and I didn't want to anger him." Argento later made a film which included scenes inspired by his actions.