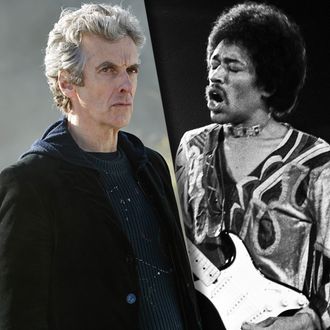 William Shakespeare. Vincent van Gogh. A very horny Madame de Pompadour. Interacting with famous faces of yesteryear is as synonymous with Doctor Who as a sonic screwdriver at this point. However, there's one icon who hasn't yet graced the Whoniverse, even though the 12th Doctor himself, Peter Capaldi, is dying to have a foxy time with him: the high priest of rock, Jimi Hendrix.
Based on Capaldi's spec script idea, which he described at a New York Comic Con panel on Friday morning, it wouldn't exactly be a family-friendly outing aimed at the kiddies. "I would've loved to be in an episode where I met Jimi Hendrix. When Jimi hadn't quite got it together yet and was really something," he said. "The Doctor was able to go and get a wah-wah pedal from him. That would've been really cool. Look at this, maaaaan, I made this for the TARDIS! Get Jimi to come into the TARDIS to pluck on the guitar."
As for the monsters they would fight? Hey, man, mellow out, Capaldi's got that covered too. "The flower people. Flower people with great big petals on their heads. And this ozone gets released that makes people really trippy. What should we call those trip monsters? Purple haze!" Definitely sounds cooler than castles made of sand.