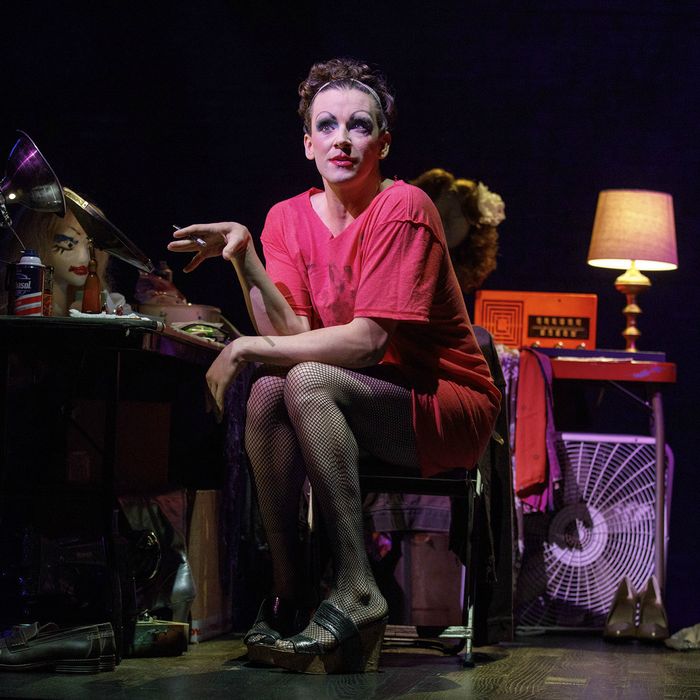 Michael Urie in
Torch Song.
Photo: Joan Marcus
Harvey Fierstein's Torch Song, now receiving its first full revival in 35 years at Second Stage Theater under the direction of Moisés Kaufman, has undergone a makeover. The play is in fact three plays, originally presented singly at LaMaMa in 1978 and 1979, then grouped together as Torch Song Trilogy for a 1983 Broadway transfer that won Fierstein the Best Play and Best Actor Tony awards. It also established his status as a fiercely funny, hyperarticulate theater artist who was kicking down closet doors in stiletto heels years before the country had even made it to not asking and not telling. Broadway wouldn't see Tony Kushner's Angels in America until a decade after Torch Song Trilogy's premiere.
Now, Fierstein — who also wrote the books for the musicals La Cage Aux Folles and Kinky Boots, and bagged another Best Actor Tony for his drag turn as Edna Turnblad in Hairspray — has taken the shears to his triptych, starting with the title. The Second Stage production is an adaptation of the three Torch Song plays — International Stud, Fugue in a Nursery, and Widows and Children First — trimmed to two hours and 45 minutes from the original four. "People are scared of the word 'trilogy,'" Fierstein joked to Michael Riedel in an interview in the New York Post. "If you hear 'trilogy,' you think, 'Oh, my God, I'm not going to get out of here till five in the morning. Marvin, get the car!'"
Here's the bad news: Fierstein could have been a bit more merciless. Even squeezed into a smaller pair of heels, Torch Song starts to lose steam by the end of the night. (I actually disagree with Fierstein's remark: Had Trilogy remained in the play's title, and had Second Stage embraced the evening's epic nature, I would have been ready to nestle in.) But here's the good news: For the most part, the production feels like a case of too much of a pretty good thing. It's charming, intelligent, and, at 40 years old, often strikingly fresh.
Fierstein and his protagonist — the vulnerable, voluble Arnold Beckoff — are talkers. A constant stream of language — from witty to cornball, plaintive to argumentative, anxious to impassioned — is both their armor and their weapon. It's Arnold's way of facing a world that daily tells him there's no space for him, and it's his means for creating that space. Fierstein's presence is still tangible in Arnold (it makes a little less sense in this production when a would-be lover asks if his voice is "natural or do you have a cold?"), but the irrepressible, elastic-faced Michael Urie is making the character undeniably his own.
Urie — who won an Obie for Homos, or Everyone in America and whose hysterical antics last season in Red Bull Theater's The Government Inspector quite possibly broke recent records for laughter-inflicted rib injuries — is a born clown. He's got that Donald O'Connor gift for physical comedy, a warbling voice that jumps between whine and roar, and a nimble, easy feel for Fierstein's particular type of patter. In another mouth, the language might feel campily old-fashioned ("For those of yis what ain't yet guessed, I am an entertainer") or sitcom-ish ("Y'know, this stuff smells awful but it tastes much worse"), but Urie renders Arnold's verbal affectations endearing — and the man knows how to get a laugh. For him, a line like "A drag queen's like an oil painting — you gotta stand back from it to get the full effect" is a surgical strike. Urie's got us right where he wants us.
Which is more than Arnold can usually say for the men in his life. A young Jewish gay man and drag performer (with a taste for the smoky, hopelessly romantic numbers of the play's title), Arnold is in that most excruciating of conditions: lonely in New York City. It's the late '70s and Arnold is out, smart, a little neurotic (maybe more than a little), and a lot in love with Ed — at least at first. International Stud, the first third of Torch Song, is named for an actual Greenwich Village bar in the '60s and '70s, known for its backroom activities (Urie's solo enactment of an encounter in this space is both hilarious and forlorn). It's here that our hero first meets the hunk (here, tall, blond, chiseled, and All-American in the person of Ward Horton) who will move in and out of his life over the next five years, hurting him, confusing him, frustrating him, and potentially ending up his great love and long-term partner. Potentially.
International Stud follows Arnold's rocky romance with Ed, who is bisexual and who eventually leaves him for a woman. The second play, Fugue in a Nursery, is a kind of emotional ménage à quatre that occurs a year later when Arnold and his new lover Alan (the sweet Michael Rosen) visit Ed and his now-wife Laurel (Roxanna Hope Radja, doing plucky work in the play's most thankless role) at their house upstate. Staged in an enormous bed against a Magritte-blue sky, this act makes the most abstract and the most charming use of David Zinn's reconfigurable set — all moving platforms, neon letter signage for each act's title, and colorful, nostalgic tableaus. The final and most emotionally stormy play, Widows and Children First, jumps forward five years to find Arnold mourning Alan's tragic death, letting the still-confused Ed sleep on his couch, preparing to adopt the teenage David (a spirited performance by Jack DiFalco, though in Fierstein's voice a 16-year-old sounds much like a 35-year-old), and awaiting a visit from his formidable mother (all pursed lips, permed coif, and equally fierce affection and disapproval from Oscar and Tony winner Mercedes Ruehl).
Of Torch Song's three inner plays, Widows and Children First paradoxically both feels the baggiest and contains some of the production's most affecting moments. It's got the highest stakes, and with a bit more tightening, this act could hit home even more profoundly. Up till now, the problems of Arnold's life have been variations on the theme of love and heartbreak. Now, death, grief, parenthood, and long-term commitment enter the picture — along with a fight for his identity that, though it's always latent for Arnold, finds full, tempestuous expression with the entrance of Ma. Arnold's mother loves him, but to her his life is at best a phase and at worst an aberration that she can tolerate as long as everyone stays quiet about it. She can be droll and seemingly unflappable, and then all at once her fear can make her breathtakingly cruel. Ruehl finds the character's humor, and then drives unapologetically into her ugly blind spots: "You've got to throw me in the gutter and rub my face in this," she rages at her son, "You have not spoken a single sentence since I got here without the word Gay in it!"
It isn't that Torch Song never feels dated — in particular, the discourse around bisexuality seems limited in perspective. It's not just Arnold who, as Ed says, thinks "everyone is either gay or in the closet" — it's the play too. But the third act's raw, desperate explosions between mother and son feel powerfully present. We are not done having these conversations, not by a long shot. And part of the painful wisdom of Torch Song is that it doesn't show us a reconciliation between parent and child. Arnold will keep loving and keep fighting, but like so many others, he might have to do it without the support of one of the people that — despite everything — he loves most in the world.
Torch Song is at Second Stage Theatre through December 3.