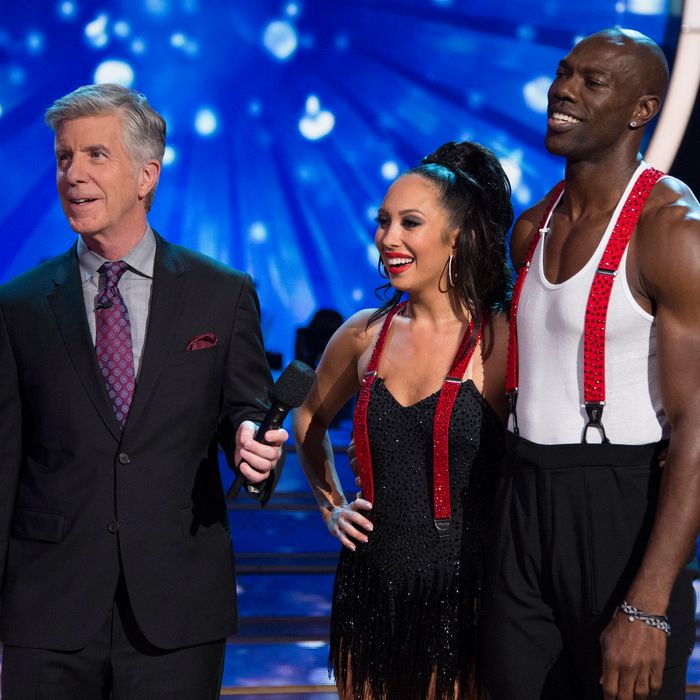 Photo: Eric McCandless/ABC
Monday was a tough day. A bad day. A horrible day. How is a show like Dancing With the Stars going to handle the tragic realities of the last 24 hours? By being respectful, of course, and doing its best to provide some lighthearted entertainment to people everywhere. After a somber and considerate introduction by host Tom Bergeron, the 11 remaining contestants do their best to provide some distraction from the day by cutting a rug all over the stage during the opening number.
It's Guilty Pleasure Week on the show. Tom tells us that there is no elimination this time and I, for one, am very disappointed. Let's be honest: We watch these reality-competition shows to see who screws up and doesn't make the cut. There's a reason Survivor is called Survivor and not A Bunch of Idiots Sit on a Desert Island for a Month and Then They All Get Participation Trophies.
First up is Property Brother Drew Scott doing the Argentine tango with Emma. (I'm going to mention each of the contestant's dance partners tonight because I'm feeling very magnanimous, and I'm sure they will consider being mentioned in a TV recap by Lisa Lampanelli a career high.) Drew's guilty pleasure is watching TV crime shows, which speaks to me because I love, love, love Law & Order: Special Victims Unit. I love it so much that I think Mariska Hargitay's character should be allowed to enter every other TV show and arrest anyone she thinks is a little shady. Better watch your back, Sheldon from The Big Bang Theory. You too, Young Sheldon!
Drew does better than I thought he would, especially for a guy who sells houses for a living. He scores a 23.
Basketball star Derek Fisher is next and does the cha-cha-cha. His guilty pleasure is watching The Fresh Prince of Bel-Air, so he and his dance partner Sharna are dancing to the Fresh Prince theme song. Okay, I understand they couldn't get Will Smith to perform the song live, but don't tell me they couldn't have booked Jazzy Jeff. I'm sure his boss at Applebee's would've given him the night off.
As usual, judge Bruno Tonioli is equal parts euphoric and creepy while giving his opinion of the routine. He's kind of like what Dracula would be like if he drank blood laced with ecstasy.
Derek gets a 21, which is okay, but not a good as a guy who sells houses for a living.
Next up are Victoria Arlen and Val, doing a quick-step. In case you haven't read my previous recaps (and if not, why the hell not?), Victoria was paralyzed for many years and still doesn't have feeling in her legs. That means criticizing her feels like kicking a puppy, so I'll refrain from saying that she's a little stiff tonight and that her guilty pleasure of liking the song "Tubthumping" is kind of lame. She scores a 22, which is better than the Fresh Prince, but not as good as the house-seller.
Vanessa Lachey and Alan are up next, with a jazz routine based on her guilty pleasure of having a girls' night out, which would make sense if we were in Saudi Arabia. In spite of that theme, at no time during the routine does she shove a $20 bill down the G-string of a hot male dancer, so I don't know how accurate the girls' night out motif is. That being said, Vanessa does a great job and scores a 23.
Bruno was so ebullient that I'm going to email Tom Bergeron and ask him to slip a couple of roofies into Bruno's water glass just before next week's show.
Here comes WWE star Nikki Bella. Her guilty pleasure is Fifty Shades of Grey, and she's doing a steamy dance with her partner, Artem. Unfortunately, the routine does not contain any handcuffs, whips, or leather masks, and not a single safe-word is uttered. Disappointment ensues.
She scores a 21, but I'm sure that, with a couple of spanks on Artem's ass cheek, her score would've been at least a 24.
Next up, Frankie Muniz is doing a samba with Witney based on his guilty pleasure of boy bands. And there's even a five-second cameo by Joey Fatone! Doesn't Joey have something better to do? You don't have to say anything. We all know what the answer to that question is. I'm just glad his boss at Applebee's is more understanding than Jazzy Jeff's. Just kidding, Joey! My love for you abounds!
In my opinion, Frankie's samba was stiffer than Hugh Hefner, yet he scores a 21, keeping Malcolm comfortably nestled In the Middle. (I am not letting up on that joke, dammit!)
Violinist Lindsey Stirling and partner Mark dance the jive while in pajamas, because that's what her guilty pleasure is: staying in pajamas all day. Hey, I'm a stand-up comic. Staying in pajamas all day is a job requirement. In spite of her totally lame-ass guilty pleasure, Lindsey does an incredible job. Bruno is swooning over her performance like Scarlett O'Hara with the vapors. Lindsey scores a 27, giving hope to lazy, pajama-wearing women everywhere.
And now we have actress Sasha Pieterse and Glen, dancing jazz to Sasha's guilty pleasure: baking. BAKING? REALLY? That's not a guilty pleasure, sweetheart! It's making food. It's what humans do to survive. She gets a 19 because — did I mention? — BAKING????
Okay, here come Nick Lachey and Peta. As I mentioned last week, having his wife in the competition must up the ante for Nick. He was in the bottom two last time, so the pressure's really on. His dance is jazz, and his guilty pleasure is watching romantic comedies. These people have to start hanging around Keith Richards to find out what a guilty pleasure really is.
Nick's a hunky guy, but he's dancing in a unitard and sequined headband, so it's like watching the love child of Dolph Lundgren and Richard Simmons prance around the stage. He does well and gets a 21, two points less than his wife Vanessa got. The pressure mounts.
Terrell Owens's guilty pleasure is break dancing, which is only a slightly less dumb guilty pleasure than baking. He and partner Cheryl do a break dance–style Salsa. Break dancing and salsa go together like mayonnaise and lug nuts, and it shows in their routine.
For me, the best part of their routine is when Tom Bergeron introduces them as "Terrell and Cheryl," because it rhymes. I'm less impressed with his dance, which pains me because he's really hot and I would hate to see him get voted off. However, judge Carrie Ann really, really likes it, and is reaching Bruno-like enthusiasm while giving her feedback. But she only gives them a seven. Really, Carrie Ann? They end up with 21.
Jordan Fisher and his partner Lindsay are doing a Charleston based on his guilty pleasure of comic books. Damn, this kid is good! They should just forget about the competition so he and fellow contestant Lindsey Stirling can create a race of Super-Dancers. He has an incredible performance.
Bruno almost has an aneurysm, I think Carrie Ann peed herself a little, but Len is bitching that there wasn't enough Charleston. Sorry to break it to you, Len, but even a little Charleston is more than enough Charleston. Jordan ends up with a 25.
Future super-couple Lindsey and Jordan are the big winners, and Sasha is at the bottom with 19. Next week, I'll indulge in MY guilty pleasure and see who gets eliminated.
Lisa Lampanelli can be seen in her upcoming play, Stuffed, at the Westside Theatre in New York City starting Thursday, October 5. For tickets, go to StuffedPlay.com.