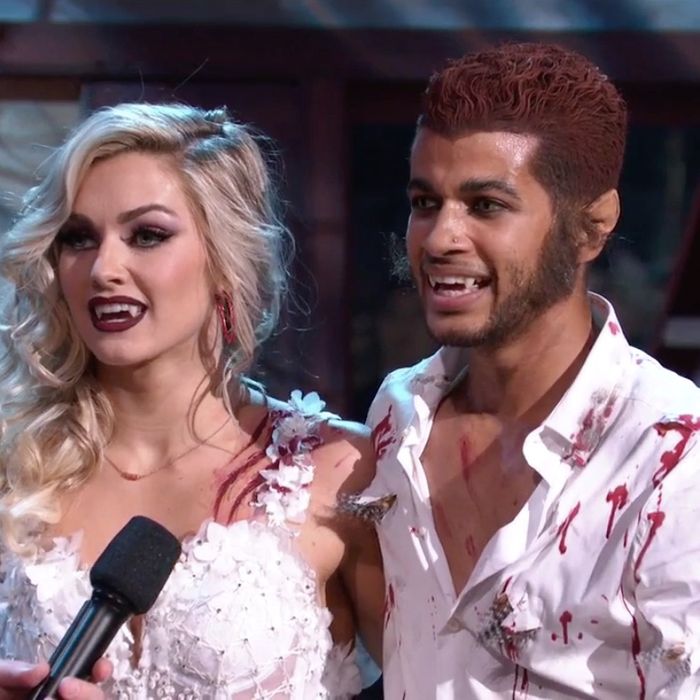 I've been a fan of DWTS for a bunch of years now, and it's always at about this point in the season that I realize I'm becoming way too invested in the show and its cast. I was at a wedding last week, and all I could think while watching the happy couple's first dance was, "Man, Len Goodman would rip this bride a new one for the awkward way she's holding her arms." Plus, scrawling a "6" on my dinner napkin and holding it up afterward didn't exactly endear me to anyone at my table.
I remember sitting down to watch this season's first episode and recognizing only a few of the names of the celebrities competing. I knew Frankie Muniz was that dopey little kid on the sitcom with Walter White, and I knew Debbie Gibson because I did Celebrity Apprentice with her a few years ago. But the rest of the people in the cast were floating around that vague celebrity shadowland of my brain reserved for character actors and basic-cable reality-show stars.
But here we are, eight weeks in, and I know more about most of these people than I do about many of my relatives. And I'm much happier to see them every Monday than I would be to see my cousin Louie show up at my door with his nasty comb-over and lazy eye.
The theme for tonight is — big surprise! — Halloween. The remaining contestants will be dressing up and dancing to Halloween-themed songs while former contestant Nick Lachey sits at home, watching the show, and trying to ignore his kids asking, "Why is Mommy still there and you're here at home, Daddy?"
ESPN host Victoria Arlen is up first, doing a Viennese waltz. She's supposed to be a ghost, but neither she nor her dance partner look like ghosts at all. They're just wearing white outfits and prancing around a graveyard. If they trick-or-treated at my house wearing those lame-ass outfits, I'd slam the door in their faces. Their waltz, however, is hella good, and they get three nines for a score of 27.
I'm noticing that Carrie Ann Inaba is wearing a blue wig that's the same color as my hair, so she's obviously dressed up as me for Halloween. I'm honored, Carrie Ann, very honored.
Next up is Jordan Fisher, doing a paso doble as a werewolf. And guess what? He put a little effort into his costume! He has fur on his face, pointy ears, a bloody shirt, green contact lenses, and fangs … LIKE A WEREWOLF! (I'm talking to you, Victoria!) Oh, and his dance is fantastic as well. The judges agree with me and give him three tens for a 30.
Here comes WWE superstar Nikki Bella doing a jive dance as a … oh, I don't know … an evil priestess, maybe? She's got black lace stockings and an ostrich-feather skirt, so maybe she's supposed to be a sexy bird. Her dance is as unfocused as her costume, so the judges give her three eights for a 24.
Nick Lachey's much more successful wife, Vanessa Lachey, is up next. (If I turned the sound down, I bet I could hear Nick weeping.) She's doing a paso doble and, in her routine, she's being attacked by a pack of zombies. Wait, is it a pack of zombies or a gang? A litter? A pride? Maybe it's a zoo of zombies. Anyway, they have a fog machine going for her performance, and there's so much smoke onstage, it looks like the inside of Willie Nelson's tour bus.
Hey! They just cut to the audience and guess who's there? NICK!! Uh-oh! Who's watching their kids? I hope they have a competent sitter. (I told you I get way too invested in these people's lives.) I'm sitting here on my couch obsessing over the Lachey kids, so I miss most of Vanessa's routine, but I snap out of it long enough to see that she gets three eights for a 24.
NFL star Terrell Owens is up next doing a tango. He's dressed as a nerd with vampire fangs, which makes Nikki's bird costume look sensible in comparison. In spite of his atrocious outfit, Terrell does pretty well, and gets two eights and a nine for a total of 25.
You may have noticed that I always include the total score after the three judges' scores. That's because I know that the U.S. ranks 38th in math skills, so I don't want you to have to stop reading my article to count on your fingers to figure out what their totals are.
You're welcome.
Here comes violinist Lindsey Sterling, dressed in the style of the Mexican Day of the Dead and dancing a paso doble. In her pre-taped segment, we learn that she dislocated a rib last week and is still in great pain. Coincidentally, I had barbecue ribs for dinner and am also suffering some distress. But we both must work through the pain: me sitting on my couch in my pajamas watching the show, she performing a very physical and complicated dance routine. She dances better than I could even if I had 12 extra-healthy ribs and scores three nines for a 27.
Frankie Muniz is next, doing a contemporary dance as a horror movie bad guy. He doesn't even bother to put on a hockey mask or wear a glove with knives on it. Lazy. Nevertheless, the judges love his performance and give him three tens for a 30. It's Malcolm in the Lead, bitches!
By the way, Carrie Ann Inaba has not told one single filthy joke or made any inappropriate comments tonight, so I'm beginning to think she's not actually wearing a Lisa Lampanelli costume. Well, she can forget about me going as HER next year. Ingrate!!!
The last contestant for tonight is reality-show star Drew Scott doing a Charleston while dressed as a cartoon ghoul. I was a bit hard on Drew in last week's recap, and I think he took my criticism to heart because he does a terrific job tonight. The judges give him three nines for a 27.
Now they're having a "team dance" where the contestants are divided into two teams of four and forced to learn a whole new routine. When do these people find time to pick up their dry cleaning — or watch their kids, Nick and Vanessa?!
Terrell, Nikki, Jordan, and Lindsey are Team Monster Mash. The judges are not overly impressed with their routine and give them three eights for a score of 24.
The next team, Frankie, Drew, Vanessa, and Victoria, are Team Phantom of the Opera. Judge Bruno Tonioli is so excited by the routine I'm afraid he's going to follow them home and boil a rabbit on their stove. They get three tens for a — correct, Mathletes — a 30! I knew you could do it!
ELIMINATION TIME! Now that I'm fully invested in the show, this is a difficult part of the series for me. In the past few weeks, we lost Nick and Debbie and some other people I've already forgotten about. But I miss them all terribly. And now Tom and Erin throw me a curveball by eliminating TWO people tonight, Nikki Bella and Vanessa Lachey. Damn!
I give tonight's episode three out of five stars, because I'll miss making fun of Nick because his wife was still on the show. On the bright side, I won't be losing sleep tonight over who's gonna be looking after the Lachey kids next week.
Lisa Lampanelli can be seen in her play, Stuffed, at the Westside Theatre in New York City. For tickets, go to stuffedplay.com.