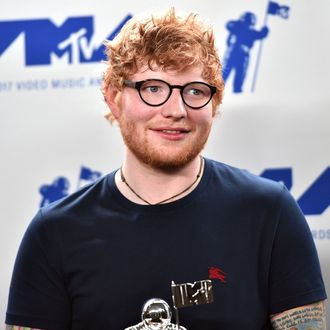 Sheeran.
Photo: Alberto E. Rodriguez/Getty Images
Ed Sheeran will reveal his battle with substance abuse in Saturday's episode of The Jonathan Ross Show. According to People, Sheeran says the real reason he took a year off from music was to distance himself from an environment that triggered the abuse. "I think you need to, when you get into the industry, adjust to it — and I didn't adjust because I was constantly working on tour. And all the pitfalls that people read about, I just found myself slipping into all of them. Mostly, like, substance abuse," Sheeran says. "I never touched anything. I started slipping into it, and that's why I took a year off and buggered off." He continues: "I didn't really notice it was happening. It just started gradually happening, and then some people took me to one side and were like, 'Calm yourself down' … It's all fun to begin with, it all starts off as a party and then you're doing it on your own and it's not, so that was a wake-up call and taking a year off."
Sheeran does not specify which substances he abused, but in a Rolling Stone profile earlier this year, he defended his heavy alcohol consumption. "Often, I'm like, 'Is it bad that I drink almost every single day?' … But I don't wake up and drink. I don't depend on drink. I can go without it completely," he said. "I just enjoy going out and having fun, being 25. And I think that's a normal thing." He now says that working on music — because he claims he can't write songs "under the influence" — and living with his girlfriend have helped "ground" him. "I was a 25-year-old in the music industry on tour so I just needed someone to balance me out," he says.