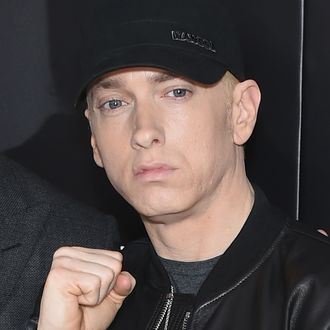 Photo: Dimitrios Kambouris/Getty Images
In order to understand why some fans believe Eminem is naming his next album Revival, you've got to lose yourself in a rabbit hole. As Billboard reports, earlier on Tuesday, Eminem's longtime manager and current Def Jam Recordings CEO Paul Rosenberg posted a picture on Instagram that seemed to innocently promote an upcoming Yelawolf album. However, behind the CD in Rosenberg's hand and out the window is a large advertisement for what appears to be a prescription drug called "Revival" ("appears" being the key word). Exhibit A:
Did you notice how the e in Revival is backwards like it is on the rapper's logo?
Sharp-eyed sleuths who researched the pharmaceutical discovered that the "medication" treats a fake illness. Revival's website looks legitimate at first glance, before you discover several veiled references to Eminem's career hidden among details, like an outrageous list side effects. "Seize the Moment" reads the website's logo, while a video ad features an actor casually dropping quotes from "Lose Yourself." Exhibit B:
Anyone who saw the advertisement and the website and still wanted answers could also call a phone number listed (1-833-2get-rev). The number leads to a voice-mail with a woman repeating much of the same material in the ad as a piano version of Em's "I Need a Doctor" plays in the background. "We give you some serious fucking credit for sticking through this ad," the automated message says at one point. Exhibit C:
If all this isn't enough to quite convince you, remember that Eminem pulled a similar stunt in 2009 for his album Relapse when he created a fake rehab center. So, probably now would be a good time to start following other friends of the rapper on social media so you can be the first Stan to figure out the album's release date.