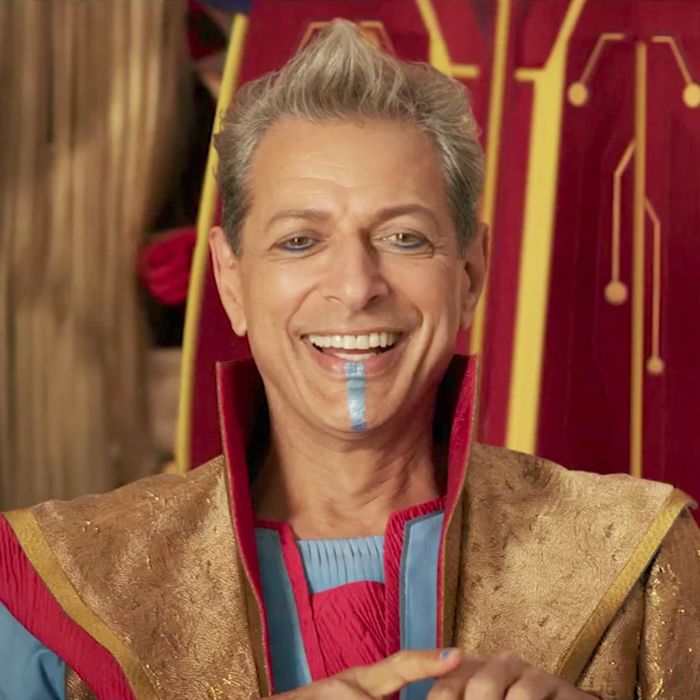 Jeff Goldblum.
Photo: Walt Disney Studios.
"I want to put you inside my brain," Jeff Goldblum purred. "I have a guest house all fixed up for you, ready to go."
This was Goldblum's response when I told him that in lieu of a traditional interview about the new Marvel film Thor: Ragnarok, where he plays a planetary ruler named the Grandmaster, I would simply name some of his Thor castmates and he would try to recall his very first impression of them. Knowing how effusive Goldblum tends to be, and how often his tangents go in weird and wonderful directions, I figured the simple prompt would do just fine. And given how much rancor there is in the world right now, couldn't we all use the mental-health break of Jeff Goldblum complimenting lovely people in the most creative ways?
The 65-year-old actor was more than game. "I love this idea, I love this cast," he said. "Oh boy, let's go! I can't wait."
Cate Blanchett
When I brought up the actress who plays the villainous Hela in Thor: Ragnarok, Goldblum was reduced to his trademark stammers. "I just, um uh uh uh, am stunned, uh uh, by her magnificence," he said. "Oh my gosh. Oh my gosh. Well, she burst on the scene! I saw her, I was a fan of hers. You know the film Elizabeth, where she played Queen Elizabeth?" After that Oscar-nominated performance, Goldblum followed Blanchett's career from film to film, though it wasn't until Wes Anderson's The Life Aquatic With Steve Zissou that they finally worked together. Did he remember where he first encountered her during that production? Yes, because the memory was amazing: "It was in the South of France at Gore Vidal's villa," recalled Goldblum, "and she could not have been more spectacular." Sadly, Hela and the Grandmaster share no scenes in Thor: Ragnarok, but Goldblum did hang around to watch Blanchett act on the single day their schedules overlapped. "I was knocked out, of course!" he said. "I can't say enough about her. And she's so funny in this movie, and powerful. Oh my God. Stop me before I go on too long!"
Chris Hemsworth
"Chris couldn't have been more fun and sweet to me," said Goldblum of the Australian actor who has now played Thor in five Marvel films. "And in this movie, he's so nimble and impressive. Not only athletic, of course, but hilarious." Does Hemsworth prove that even our most beautiful and bicep-blessed movie stars can become comic breakouts? "Does he ever!" said Goldblum. "Oh my gosh. He's some new form of hybrid. He's the king of the species." Goldblum is no stranger to the Hemsworth family: He worked with brother Liam on last year's Independence Day: Resurgence and became acquainted with the Hemsworth parents during that film's press tour. "They're not only gorgeous, but they're salt-of-the-earth, remarkable types," said Goldblum, before wondering out loud, "Did I meet Chris then? Hmm. You know, I didn't meet Chris until I came to the Thor set, by gum! Jeez, I think the world of him. I'm crazy about all those Hemsworths."
Tom Hiddleston
When I noted that fangirls go a little crazy for Hiddleston, who plays Thor's brother Loki, Goldblum corrected me: "More than a little bit," he said, adding, "Oh yes." Goldblum had watched every episode of the Hiddleston mini-series The Night Manager before he was cast in Thor: Ragnarok, and the two actors hit it off immediately once they got on set. Goldblum was happy to find that Hiddleston was an avid game player between camera setups — "We played the movie game, where you go from actor to movie, actor to movie" — as well as a gifted impressionist. "I'm a sucker for that, so I made him do many impressions," said Goldblum. "People have told me over the last couple of days that he's been doing an impression of me and I have not seen it, but I am very eager to. I'm already flattered."
Here are four other delightful things Jeff Goldblum said about Tom Hiddleston:
"He's a super-duper actor."
"He's a real practitioner."
"He's an eight-degree black-belt master of the craft."
"He dresses very nicely and I like his style, of course."
Tessa Thompson
Several years ago, before Goldblum co-starred in a revival of David Mamet's play Speed-the-Plow with Kevin Spacey, he went to the Kirk Douglas theater in Culver City "to watch an evening of Mamet and make a study of all the Mamet things I could gather," Goldblum said. "There was a striking young lady right in front of me. She turned around, and we looked at each other, and she turned back around. I tapped her on the shoulder, and we started a conversation." That woman happened to be Tessa Thompson, the rising actress who would go on to appear in Creed and Westworld, as well as steal countless Thor: Ragnarok scenes as the sword-brandishing, beer-guzzling Valkyrie. "She's magnificent in this movie, and everyone will be gushing about her," said Goldblum, who enjoyed being "in cahoots" with Thompson for most of his scenes. "Seeing her on the set, she was wildly intelligent and full of swaggery fun. We improvised together and it couldn't have been more delightful. What an amazing actor and person … absolutely stunning, stunning, stunning."
Mark Ruffalo
I've never heard someone say "He's got a rainbow of resources!" about Mark Ruffalo, but now that Jeff Goldblum has, I think that description ought to be added to Ruffalo's Wikipedia page. "He's a hero of mine in many ways," said Goldblum, who first caught Ruffalo in You Can Count On Me and who, in Thor: Ragnarok, imprisons Ruffalo's Hulk in a gladiator arena. "I don't know how they did it but he, of course, is in the Hulk and the Hulk is very much him," said Goldblum, attempting to describe the motion-capture process that brings the big green character to life. "I think it's touching. We didn't have stuff together but we overlapped on a bunch of days, so we had a whole lot of time to jabber at each other! I get choked up with his sensitivity and his intelligence and his good heart. I love him."
Sam Neill
"We were in this dinosaur movie together, a little movie called Jurassic Park," said Goldblum of the actor who has a brief but clever cameo in Thor: Ragnarok. "He's a great man, of course, also from the nourishing environs of New Zealand." Goldblum thought more about it. "Well, they must be nourishing. You see what happens! Great integrity, great depth, and not only is he a handsome dog, but he has a whole inner garden … he's an international treasure." Though they shared no scenes together in Thor: Ragnarok, Neill still made his presence felt: "He left an eight-by-ten of himself for me in the makeup trailer," laughed Goldblum.
Taika Waititi
Who doesn't have a crush on Thor: Ragnarok director Waititi, who also plays the motion-capture character Korg? "He's such a handsome dude," said Goldblum. "I mean, strikingly handsome. A fine figure of a man." Goldbum met Waititi years ago at the Los Angeles restaurant Salt's Cure, where he went up to introduce himself to Flight of the Conchords star Jemaine Clement and made the acquaintance of his dining partner, who had directed Clement in several films. Waititi later met up with Goldblum at the Chateau Marmont, where he convinced Goldblum to play the Grandmaster. "He was dressed nattily, of course," said Goldblum
Indeed, Waititi's playful style has earned him no end of attention and was a constant topic of on-set conversation during Thor: Ragnarok. "Sure enough, he had clothes in a trailer that he would change into while directing," said Goldblum. "It was an array of suits and ties and shirts that he dressed up in, and I was very impressed." That admiration for Waititi's fashions has only grown since the film wrapped. "Seeing Taika on this press tour, he wore this pineapple-printed onesie of some kind that made a big impression on me and many other people. Oh! And at the premiere, he had this brown suit and … oh boy. It … uh …" Goldblum tried to find the words. His voice dropped to a whisper. "It set my brain on fire," he finally said.