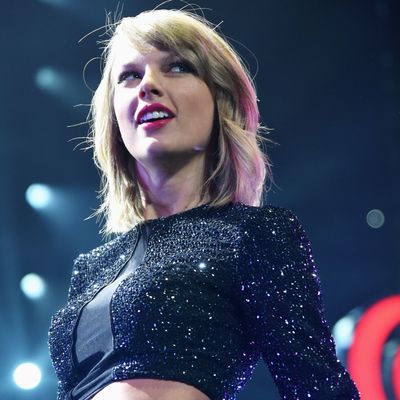 Some FAQs.
Photo: Jason Merritt/Getty Images for iHeartMedia
Hello, gorgeous. No doubt you woke up this morning alerted to the news that, shock-horror, Taylor Swift did a thing. It's unclear if we made her do it, but what's done is done. At midnight last night, Taylor released "Gorgeous," the third song from her forthcoming album Reputation. By now, you might have heard it and have some questions. Or perhaps you'd rather not commit to listening, but would still like to be included in the gossip. Fear not, we have answers to everything on your mind.
So, there's a new Taylor Swift song?
Mhm.
Do I have to, like, pay to hear it?
Nope! Like her previous two singles, this one's on all the major streaming services, including Spotify's free tier, and it has a lyric video on YouTube.
Yeah, about those lyrics: Which dude is this about?
If we had to guess, we'd say the guy from Billy Lynn's Long Halftime Walk.
Who?
His name is Joe Alwyn, but we'll just go with "that Billy Lynn guy." He's a young British actor, and he and Taylor have been dating since May, as far as the public knows. That's it. That's his story.
How do you know it's him?
There are four clues pointing to that Billy Lynn guy being the subject of this song about a painfully beautiful man. The song opens with Taylor talking about how she's got a wandering eye, because while she's pining for this gorgeous dude, she's actually with another man at the time: "And I got a boyfriend, he's older than us / He's in the club doing, I don't know what." Taylor is 27 and that Billy Lynn guy is 26. Taylor's most recent exes — that we know of — are Tom Hiddleston and Calvin Harris, who are 36 and 33, respectively. Keeping those ages in mind, Taylor can't be talking about Hiddleston while referring to Harris as her boyfriend because Hiddleston is older than Harris. (Though Harris is the more likely suspect to be found in the club.) But the ages do line up if she's talking about that Billy Lynn guy while referring to Hiddleston as her boyfriend. Both are British. There are clubs in Britain.
And the other clues?
Taylor's first verse on this song goes "You should take it as a compliment / That I got drunk and made fun of the way you talk." Again, that Billy Lynn guy is British, and Taylor apparently thinks that Brits talk funny. In another line, Taylor makes a comment about how she might "sink and drown and die" in this dude's "ocean blue eyes." That Billy Lynn guy has blue eyes. And, finally, she talks about not knowing this guy's current relationship status, because when your name is "that Billy Lynn guy," who would? Also, Taylor appears to have confirmed it's about him on Tumblr. Case closed. Thanks for playing.
Am I imagining a baby's voice in the intro?
Nope.
Taylor has a kid?!
Unlikely.
So who is this child then?
While we can't confirm, rumor has it that baby saying "gorgeous" is Blake Lively and Ryan Reynolds's 2-year-old daughter, James. Which might explain why it sounds like the lil' tot is saying "go-gus"; at that age, everything sounds adorably incorrect. Taylor is close with the Reynoldses — remember that one time she forced Ryan into the world's most awkward Fourth of July photo? The kid could also be Jaime King's 2-year-old son Leo, who is also Taylor's godson. Taylor has played coy about the kid's identity on Tumblr.
Anyway, who made this song?
It was written by Taylor and her go-to collaborators Max Martin and Shellback, who previously worked on her many Red and 1989 hits.
So, Jack Antonoff was not responsible?
Not this time. Martin and Shellback also co-produced it.
Am I supposed to like it?
That's between you and your therapist.