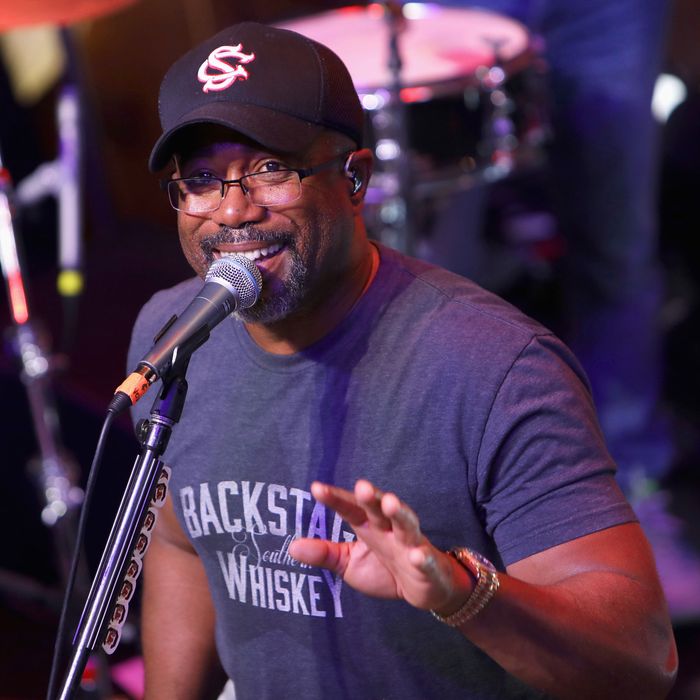 Rucker.
Photo: Anna Webber/Getty Images for HGTV
The year 1995 was one of flux in rock. Through Nirvana's posthumous Unplugged in New York LP, Kurt Cobain's tortured ghost could still be heard around the hour on the radio, and Hole's Live Through This singles rang out as rejoinders. Dave Grohl hit the ground running with the self-titled Foo Fighters album, a collection of airtight songs he'd squirreled away from his other band, like when George Harrison sprung out of the Beatles with the pristine All Things Must Pass in the bag. Overseas upstarts like Bush and Silverchair thrived on serviceable facsimiles of Seattle grunge, while a spooked Eddie Vedder tried to carry out the business of being the biggest rock star of the moment nearly sight-unseen.
Neither grunge nor the prettier power pop that sprung up like a reaction to it around bands like Weezer and the Gin Blossoms ended up spawning the principal success story of 1995, though. That honor went to Hootie and the Blowfish, a long-suffering South Carolina roots rock-quartet whose 1994 debut Cracked Rear View — anchored by "Hold My Hand" and "Only Wanna Be With You," singles rescued from a demo carelessly titled Kootchypop — loudly outpaced every album now considered to be a touchstone of the era, to the tune of 10 million albums sold just by year's end.
Hootie's vision of alt-rock paired the soulful, rustic sounds of acts like Counting Crows and Sheryl Crow with the gruff, gravelly vocal textures favored by Pearl Jam and Stone Temple Pilots, but swapped the grunge guys' weary, at times inscrutable lyricism with earnest joy. The big hits were about finding happiness in monogamy and friendship. The goofy, megawatt charm of "Hold My Hand" hit so hard that even its B-side, "I Go Blind," occupied space on the radio as the follow-up single to "I'll Be There for You," the Rembrandts' Friends theme song on the show's official soundtrack. Alongside the funereal Nirvana Unplugged set and the Smashing Pumpkins' Gothic, vaudevillian Mellon Collie and the Infinite Sadness, the breakout success of Cracked Rear View presented the story of pre-TRL '90s rock as one of deep contrasts, a place where it was possible to turn on the radio and hear a Nine Inch Nails song on the same station that played the Dave Matthews Band.
Hootie and the Blowfish wasn't revolutionary or especially great — it was dutifully comforting and at times aggressively upbeat in a moment when we seemed to need that — but it did seem important that lead singer Darius Rucker was a black man at the helm of a widely beloved rock band. It's ridiculous to think of in retrospect, considering how quickly nu-metal brought minority performers and audiences to the table, but there was a strong stretch after the '80s where rock felt like a mouthpiece for the frustrations of white men. Grunge was made by latchkey kids from factory towns and thought to suit the tastes of a specific brand of disaffected white youth. Although a large portion of that audience would fall for hip-hop as well — this is how the Beastie Boys became a stadium act — rock music in the '90s rarely held the same footing in predominately black spaces that rap often enjoyed in white ones. For years it had simply ceased making inroads. If you dug it, people wondered how you even found out about it.
I stumbled on punk, rock, and metal after my mother pushed for me to get out of the New York City public school system in the early '90s and, with the help of a guidance counselor, landed me a scholarship to a private school across town. It was a culture shock, chatting up kids at school about Nirvana and Beverly Hills 90210, then coming home to catch up on wrestling and the latest rap and new jack swing singles. When I realized not everyone shared all the million interests I picked up that first year, I made a mental note of whom I could to talk to about which band or show and compartmentalized interests according to whatever my audience was, a habit I'm still trying to kick 25 years later.
As a rock fan of color in the '90s you had to look for your likeness in the margins. You maintained encyclopedic knowledge of everyone of note who wasn't white — Pat Smear, James Iha, Tracy Chapman, Tom Morello, Meshell Ndegeocello, Zach de la Rocha, Chino Moreno … Darius Rucker's presence stamped it into the heads of the generation that came of age after Living Colour and Fishbone's moment in the sun — but before the rise of Rage Against the Machine, the Deftones, and At the Drive-in — that rock fans of color existed. What Hootie and the Blowfish lacked in actual genius, they made up for in charm and priceless representation. (This did not come without adverse side effects: If you spent any time in the late-'90s suburbs as a black rock fan with a predilection for fitted caps, for a time, your nickname was probably Hootie.)
Even though it took Rucker and his band nearly a decade to arrive at the sound that ingratiated them to the masses, the success of Cracked Rear View was something of a curse. The bar for a follow-up is sky-high when your debut album goes diamond in six months, and nothing Hootie and the Blowfish ever made after the first record could shake the accusations of diminishing returns. After a decade of this, Rucker and the band announced a hiatus, and the singer pulled the strangest, smartest move he could've: He cut a deal with Capitol Records Nashville and poured himself into a solo career in country.
"When I started this solo thing," Rucker told Rolling Stone in 2013, "it was just me and Mike Dungan, the guy who signed me. The day he decided to sign me, he called 13 people who he thought were movers and shakers in Nashville, and 12 of them told him it wouldn't work." Notoriety got Rucker's foot in the door, but pure dedication and deep knowledge of country music built his rep. Nearly a decade into his second act as a country singer, from his home in Charleston, Darius Rucker has logged a reliable string of gold and platinum albums and singles and lodged himself quite comfortably inside the Nashville mainstream.
Being black and into country music is a constant act of suffering other people's confusion. For years, the only African-American artist fans of the stuff could name-check at the ready was Charley Pride, the Mississippi singer whose 15-year string of chart toppers between the late '60s and early '80s restored some color to a genre racism had blanched of its connection to the black blues, folk, and rockabilly players who had been present in its early days. In a 2016 chat with Rucker for the Dallas Observer, Pride recalled falling in love with country music as a youth and being asked by his sister, "How come you want to sing white folks' music?" As a growing presence in Nashville, Pride's triumphs were offset by racist nicknames and label practices — RCA withheld his picture early on — and, though he was appreciated by open-minded peers, there was a not-so-subtle sense he was working in a field not built for people like him.
Brave pioneers like Charley Pride set precedents, and Darius Rucker's toil toward ubiquity as an '80s and '90s roots rocker and a 2010s country star pushed the dial even further for black visibility in those genres, but country music remains a palpably white business and audience. When you feel like the only person of color in the room, you often find yourself running a tally of everyone else who looks like you. At a Garth Brooks concert in Yankee Stadium last summer, on the border of the black and Latin communities of Harlem and the Bronx, I counted one. (One member of the event staff was so surprised to see me in a 99 percent white audience that he flat-out asked what I was doing there.) At Ryan Adams in Central Park a few weeks later, I managed to count five.
Modern country is enjoying an influx of black, brown, and mixed-race artists, from pop-country bards like Mickey Guyton and Kane Brown, who grew from faithful Facebook covers of country classics to a No. 1 album on the Billboard Top Country Albums chart, to singer-songwriter Rhiannon Giddens, whose work in and out of the all-black country-blues act the Carolina Chocolate Drops earned her a recurring role on the music biz soap Nashville and a 2017 MacArthur Foundation "genius" grant. Country continues to play around with hip-hop sounds and collaborators, as evidenced by hits like Jason Aldean and Ludacris's cover of Colt Ford and Brantley Gilbert's "Dirt Road Anthem," Florida Georgia Line's star-studded "Cruise" and "This Is How We Roll" remixes, and the present reign of the Georgia-born Usher and Drake fan Sam Hunt.
Even as country embraces — or, it has been occasionally argued, imitates — black voices, the subtle sense that there are different kinds of music for black and white audiences lingers. You could see it in the outrage over Beyoncé's excellent performance alongside the Dixie Chicks at last year's CMAs and in the groan your average music nerd lets out when someone like Carrie Underwood or Kelsea Ballerini takes the stage at one of our shrewdly inclusive music awards shows. I experienced it years ago walking into a record store to buy Merle Haggard's Branded Man from an employee who did a triple-take at my purchase, and again not so long ago when a fellow critic who knew me as a rap writer at the time told me that a joke I'd cracked about awards-show outfits relayed an amateurish knowledge of, and flippant disrespect for, southern culture and country music. I walked her through my 30-plus years of history as a literal Southerner from a family rooted in small-town South Carolina and ran down a list of country records that caught my ear since the year 2000. You never stop having to explain yourself. (Do white fans endure these quizzical looks and interrogations into how they arrived at interests not believed to be in their geographical purview, or does "It's good, and I like it" suffice?)
Music fandom is accepting of hypothetical tastes that don't fit the prescribed norms, but it still sometimes struggles to believe and understand them in the wild. It feels good when Florida Georgia Line sings about playing Travis Tritt and 2pac records back-to-back, but why does standing in the middle of a crowd of people who purport to do so, even in a city as diverse as New York, sometimes feel like a passage to a hidden, predominately white space? Why do people outside those spaces still feel comfortable announcing that they listen to "everything but country"?
The answer is that taste is still tyrannical, that in spite of years of interests expanding and communities cross-pollinating online, we don't really understand each other, and what's more, we're beginning to retreat from the business of trying to. Donald Trump's America is divisive, and the quicker we can discern who the shitty people are, the easier it is to extract them from our midst. This has led to an uptick in presumptuous taste profiling, assuming that the art people consume speaks directly to their character. (People used to question your taste because they didn't always know what it was that you were listening to, but now they want to know why you like it.) After Beyoncé's Super Bowl performance and "Formation" video, the singer and her fans were written off by many as feminist black-power social-justice warriors, as if that wasn't a supremely cool thing to be. When Kendrick Lamar performed "Alright" on top of a destroyed cop car on BET, a panel on Fox News' The Five accused hip-hop of carelessly fomenting a climate of racialized violence. This street runs both ways: Gamergate sexism made women rightly worry about the private character of men who self-identify as gamers, and this month's McDonald's Szechuan-sauce fiasco birthed a party line about Rick and Morty fans being crude autodidacts who vocally insist they're the smartest person in any given room, just like Rick.
Country — as music that speaks to backroads and down-South living — has been poisoned for many by the idea that its demographic is the same white American mandate that got Donald Trump elected. (It's not the most unfair leap in logic: Confederate flags still fly at festivals, and there is a widespread, judicious reticence to criticize the president openly in the country community. The most political it'll get at a gig is a call for everyone to leave their differences at the door. On record, there's elegant shade like Tim McGraw's "Humble and Kind.")
Right now, we don't want to understand each other because it's dangerous to branch out. Journalist Marcus K. Dowling expressed his own advancing distrust in the wake of racist violence down South in a recent Noisey piece titled "When Being Black and Loving Country Music's Got You Down": "It makes me feel very unsafe, and because white people who looked like the good folks I sat with in trailers and dissuaded my stereotypical notions of who white people who loved Ronnie Milsap could be with were involved, I'm now filled with a second-guessing paranoia about my adoration of country music."
I know the feeling. I studiously pick out which events and spaces I occupy now, and I watch crowds more intently. I kept my eyes peeled for nationalist creeps at Metallica this summer (didn't see any) and learned to relax at Sam Hunt. It's different from the '90s, when my interests were another reason to feel sorry for myself, and I longed to meet people who cared as much about Kurt Cobain lyrics as Mary J. Blige ones. Back then I was looking for approval from others, and I had to learn to stop. Now, I find myself being watchful at shows for signs of disapproval, and that's no way to live either. The arch takeaway from the careers of artists of color who pushed back at the advancing whiteness of guitar music is to plant yourself firmly in a community you love and let the world figure you out in its own time. I'm trying now to follow their lead.