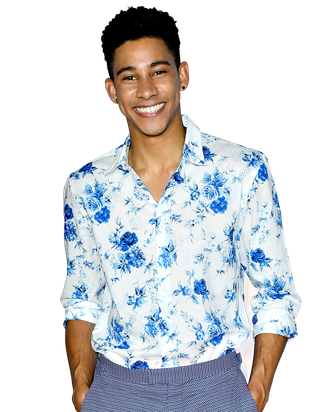 The Flash is a show with many delights: Its effortlessly optimistic tone, the Silver Age zaniness that harkens to its comic-book roots, and the camaraderie of its cast members. But one of its greatest strengths is undoubtedly Keiynan Lonsdale as Wally West, a.k.a. Kid Flash. The fourth season — which premiered Tuesday night — sees Wally grappling with living in the shadow of Barry Allen, even after he returns to Central City from the Speed Force. Lonsdale capably brings the wit and heart of the iconic character to life. Vulture caught up with the actor to discuss what to expect of Wally's journey this season and how he learned to love himself.
Wally West was actually the character who got me into comics when I was a kid, so the kid in me is slightly freaking out. 
That's so cool how it kind of comes full circle.
Has it sunk in how historic it is for you to play this character? Both because he's very beloved, and also because audiences are very vocal about wanting diversity, and it's nice to see such an iconic character played by a black actor. Do you feel any pressure?
No. I did feel pressure in the beginning, and also at the same time, I've played a character before that was based off of a book series that already had really dedicated fan support. This was even larger than that because there's so much history. I really just reminded myself that giving myself the narrative of such pressure was not going to help my performance. So I thought what would be best is to make sure I was approaching the character with love, the same love that other fans have for him, and then honoring the history of it, but also honoring what I was being given with the script each week, because what we're doing is obviously different. But of course, you sort of go in and out of feeling the weight of it, you know? It comes in waves.
Speaking of pressure, Wally West has a lot going into the season, considering Barry's temporarily gone in the speed force, and he's obviously still growing into his own abilities as a speedster. What can we expect of Wally's arc this season?
I think we're happily surprised for him, because he could really be feeling the weight on his shoulders, but he's actually feeling quite light. Because he's coming into his own, it's this bittersweet opportunity to find himself in a strange way. Also, he's not really processing his own emotions as much because he's really looking out for his sister, and he knows that at the end of the day, she's hurting the most. He's able to see the big picture because he loves her so much, and she's really struggling, whether or not she shares that. But he's very aware of what's going on.
The chemistry between the West family — between you and Candice Patton, who plays Iris, and Jesse L. Martin — is honestly pretty amazing. How is it working with them and creating such a real-feeling familial dynamic? 
It's really organic because we do feel like a family on and offscreen. We hang out a lot. Candice and I feel like brother and sister; Jesse feels like our dad.
Oh, that's adorable.
It's cool. It sort of progressed that way because I had such heavy scenes with them, so we were always together. They really took me under their wing, and it just so happens that we play family onscreen, so that was perfect. Sometimes we forget that we aren't actually a family, especially when the three of us go to the movies together.
Oh, what was the last movie y'all went to?
I know we saw Moana together. We saw Get Out together.
Last season, we had the Flashpoint episode and got to see Iris and Wally as a sibling detective-slash-superhero duo, which was really fun to watch. Are we gonna see something like that? How does the team dynamic change without Barry?
It does feel like, in a sense, the team has really come together. There isn't a specific leader. Iris is sort of manning the team — it's really using all of her knowledge and technique that she's learned over the years from her job [as a journalist]. But the team as a whole, we're still used to having Barry as our leader. We're used to having a leader who's been doing this for ages, so we definitely stumble along the way. But at the same time, people are really brought closer through tragedy.
The Flash is great at mixing action and drama scenes. What are your favorite scenes to play as an actor when it comes to the show?
I like both. I love that we get to have that mix. My favorite scenes probably are the family scenes. They're the juiciest. I love scenes with my dad, or my mum, Francine [Vanessa Williams]. Probably my favorite scene last year was when Francine came back. That was just a really meaty scene, and it was heartbreaking to read. It was really fun as well, as much as I was crying and stuff. And that's what I love about being an actor, the joy that you can find in these heart-wrenching moments.
You're very active and political on social media. I was wondering if you could give advice to some of your younger fans about living their own truth and being open about their own lives, especially at such a politically fraught time right now.
We spend so much time creating a character for ourselves that we want to present, and sometimes a character we don't even want to present, but we feel like that's what we're supposed to do. As a teenager and as a young adult, and even continuing on from there, we feel like that's what we're supposed to do in order to be successful or for people to like us.
But we have to live with this person that we are each day, so my advice would be that, make sure the person you live with each day is the real you and is the you that makes you feel joy. Because that's very possible, and if you are living your authentic self, especially in this world that we live in now, you're going to not just be an awesome human, you're gonna inspire so many other people. Sometimes I look at things I've done and even recently, I'm like, "Oh, that doesn't look that cool," or "I sounded like an idiot," or this or that. But at the end of the day, it doesn't matter. If I was living truly in that moment, then that's what matters, and then I move forward. As cliché as it is, be yourself. But also, take the time to figure out what that means.
That's very beautifully put, and it's something very, very hard to do, no matter if it is clichéd.
Yeah. I realized that this year so much because I was able to not just like myself for the first time, but love myself, and I was like, "Whoa, this is so cool." I always thought it was just me who wasn't a big fan of the innermost me, but in fact pretty much everyone I come across struggles with self love, and it's not about selfishness.
So how does being in this space, and finally coming to this point when it comes to loving yourself, affect how you look at your career?
It has really shifted. I was very obsessed with significance. I guess because I grew up watching Michael Jackson, I wanted to be this icon, and I thought that that was my destiny and that's what I had to be, and If I'm not that then I'm not worth anything. If I didn't become that then I failed. And so I've just been going along this path, (1) because I'm in love with performing and creating, but (2) because I'm addicted to this dream and really scared of being insignificant and leaving this world not having been the best in the entire world. And it's beautiful that we have such passion, but it's also crazy.
We're all just as significant as each other, we're all just figuring it out. And so that's given me a lot of balance in terms of the way I view my career. It doesn't mean I want it any less. In fact, I've been able to figure out more things that I want on top of it simply because I got to a place where I'm like, I'm gonna put in every effort I can, and if for whatever reason I don't end up where I want, I have to be okay with that, and I should be excited about that because life takes you to cool places and, I mean, I never thought I'd be playing a superhero.
This interview was edited and condensed.