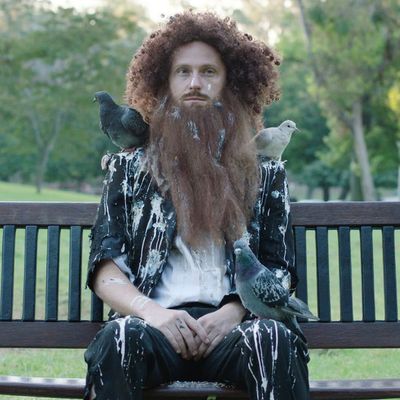 "Lovebirds," from writer-director Ahamed Weinberg, is one of the three Funny or Die short films debuting on Amazon.
Photo: Amazon Video
Amazon is deepening its ties with Funny or Die, signing a deal to finance and distribute original short-form content from the comedy powerhouse. Following a summer partnership on FOD's Justin Long web mini-series, The Real Stephen Blatt, Amazon will now fund production of three FOD comedy shorts set to bow exclusively on Amazon Prime Video next month, Vulture has learned. While audiences will stream the shorts on the same service that gives them One Mississippi and Transparent, the Amazon-FOD team-up is the result of an entirely different — and less well-known — unit of the Seattle-based digital giant.
FOD is getting its content to Amazon Prime Video subscribers by partnering with Amazon Video Direct, a YouTube-like platform launched in mid-2016 that lets filmmakers and studios self-distribute their wares via Amazon's various video services. Some AVD content is made available to Prime Video members as part of their subscription; other programming can be rented or purchased by Amazon customers the same way a digital copy of, say, Get Out can be accessed. Until now, AVD hasn't paid for any content in advance: Individuals and companies — including FOD — have been compensated based on either viewership or how much money they generate in subscription and rental fees. For example, when distributor FilmRise acquired the rights to Grace Under Fire, A Different World, and a number of titles from the Carsey-Werner sitcom library, it decided to make them available to Prime Video customers via AVD. Amazon was able to offer customers a slew of classic TV at zero upfront cost.
So why start spending money for content, as AVD is now doing with this new deal? "Funny Or Die has become one of the top AVD partners in total streams and driving new Prime Video customers," AVD chief Eric Orme tells Vulture via email. In addition to strong viewership for the Long series, Stephen Blatt, he says FOD's Between Two Ferns "was one of the most watched AVD shows on Prime Video in the U.S. over the summer." Because of that early success, Orme says, "teaming up with FOD to produce original content is a natural extension of the existing relationship."
For its part, FOD is able to use AVD and Amazon Prime Video as yet another way to expand the footprint of its content beyond its own website. Earlier this month, the company launched FODTV, a night of short-form programming on cable's IFC (whose parent company, AMC Networks, is a minority investor in FOD). FOD has also gotten into half-hour programming with shows like IFC's Brockmire, Netflix's American Vandal, and Hulu's Sarah Silverman showcase, I Love You, America. The new Amazon deal is smaller in scale than those other efforts. For now, it covers just three short films: "Lovebirds," from writer-director Ahamed Weinberg; "The Jury," written and directed by Anna Kerrigan; and "Soojung Dreams of Fiji," a documentary satire written by S.J. Son and directed by Hye Yun Park. (As part of an earlier agreement, AVD will continue to premiere — but not finance — a number of FOD titles exclusively through mid-2018.)
But while the AVD agreement is relatively low-key, it does have advantages for a studio like FOD. For one thing, AVD is completely hands-off in the development and production process: Unlike a show produced directly for Amazon Prime Video (or, say, Netflix), there's no development exec from the streaming network giving notes. What's more, FOD execs believe the AVD deal will let the company showcase up-and-coming talent whose projects are distinct from "the hypertopical content you will often find on our social channels," as FOD vice-president of partner content Brian Toombs puts it. In addition, he says, these shorts are "elevated by being hosted in the [Amazon] Prime environment. [It] gives the creative talent a different type of exposure for their work, being included among studio films and television shows. Just because it is short form doesn't mean it can't look and feel filmic." The first of the FOD shorts produced under the new deal will premiere on November 10.