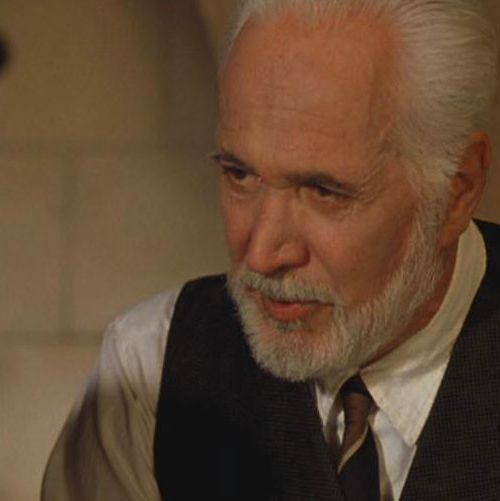 Federico Luppi in Guillermo del Toro's
The Devil's Backbone.
Photo: Warner Sogefilms A.I.E./Sony Pictures Classics
Federico Luppi, who died last week at 83, was a great Argentinian character actor whose work spanned four decades. Outside of Argentina, he might be best known for his collaborations with filmmaker Guillermo del Toro, who directed him in three of his best feature films, Cronos (1993), The Devil's Backbone (2001), and Pan's Labyrinth (2006).
When Guillermo del Toro prepared to direct his first feature, the vampire fantasy Cronos, in 1993, he already knew that he wanted to work with Luppi, who by that point had starred in such films as Chronicle of a Lady (1971), Time for Revenge (1981), and Sobredosis (1986), as well as several TV programs. Cronos was a good experience for both men, and a mutual admiration built between del Toro and Luppi. When del Toro showed him the script for his 2001 film, The Devil's Backbone, turning the part down never crossed Luppi's mind. The forthcoming book, Guillermo del Toro's The Devil's Backbone, co-written by myself and film critic Simon Abrams, contains what might be the last published interview with Luppi about his collaborations with del Toro. In honor of the late actor's life and work, Vulture is publishing an excerpt from that interview. (Snippets from this interview have been interwoven with remarks by del Toro and co-screenwriter Antonio Trashorras about Luppi's work for del Toro.)
Guillermo del Toro: Federico Luppi is like the Laurence Olivier of Argentina. He's the greatest Spanish-speaking actor alive. He is the most elegant, the most precise, the most genuine, and the most human presence onscreen ever. He's a combination of Burt Lancaster and Christopher Lee! He has the precision of Lee, but with the acting presence of Lancaster. He's great to work with. I wrote Cronos for him, and I wrote The Devil's Backbone for him, too. He always has, to me, an air of sadness.
I don't think that Argentinian cinema is well-known outside Argentina the way it should be. Federico's in a seminal film called The Romance of Aniceto and Francisca, where he plays a great, tragic character. He is the best at playing nonverbal scenes. The way he carries himself, the way he uses his body and his hands — phenomenal. There was a moment with Federico when we were preparing Cronos that I'll never forget. He said, "What do I do in this scene?" And I said, "Do whatever you want. I wrote it for you; I'm playing to your strengths." And he said, "No, if you want  me to be free, you gotta give me limits. If you give me a corral, a big corral, I still can run freely within my paces. If you tell me 'The world's your oyster,' I don't know where to run."
Federico Luppi: Guillermo and I developed a shorthand method of communicating on Cronos. His leadership was always guided by a deep sense of truth. His direction has always been completely organic. It was impossible not to understand when he gave directions, even during the most conventional fantasy scenes. He never got into lecturing master classes. Instead, his direction was in-depth but easy to grasp, both manageable and helpful. That's the kind of direction I like.
GDT: I love Federico because he's amazing at nonverbal acting. When we were doing Cronos, and he had to lick the floor with the drop of blood, I said to him, "Can you imagine licking champagne from the belly of your loved one? That's how you need to lick the floor." Of course we disinfected the floor, but I said, "You have to be in that space."
FL: All I'm thinking about before each take is being both emotionally and physically available to discover what's going to happen in that moment. In this sense, Guillermo knows in an exact and deep way what helps and what doesn't at the moment the actor hears him say "Action."
Antonio Trashorras, co-screenwriter, The Devil's Backbone: The plot of the original script was basically: [a boy named] Carlos arrives at an orphanage where only women work. He hears the other children speak of a ghost that began to appear the same day that an immense bomb that didn't explode fell onto the courtyard. This ghost may be the specter of a boy who disappeared that night. I perfectly remember hearing Guillermo say one day: "You guys have to create a character for Federico Luppi." The first thing we did was to include an honest teacher in the screenplay [named Casares] who was interested in science and extremely thoughtful with children. Guillermo liked the way we had designed that character a lot, and he added such characterizing details as his insinuated impotence and the heartwarming way he dyes his hair to look younger.
FL: I had a clear vision of an old, elegant, and bourgeois man who could surely, at the peak of his life, have all the skills and abilities to walk the world without revealing too much of himself. In that regard, I found Casares's world to be deceptively complex. Guillermo had — and still has — the ability to explain, in a few words, a vast number of complexities.
GDT: There's a scene in The Devil's Backbone that I love, where he's thinking and rubbing his finger, just thinking, What the fuck do I do? I wrote it specifically because I wanted a completely nonverbal scene for him that was like a monologue without words. He's really just thinking, not moving. Like in the close-up of De Niro in Heat that says, What do I do? Do I go to the airport and live, or do I turn around and kill this motherfucker? And he chooses the latter. Jean-Pierre Melville does that a lot — has characters moving onscreen, thinking all the time. He excels at that.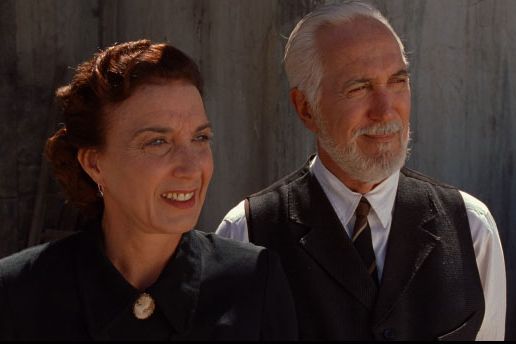 Without ever having an explicit scene where Casares says to Carmen [the administrator of the orphanage], "I'm in love with this woman but I cannot tell her," I wanted for you to feel that this guy would die for her. One of the things I discussed with Federico was, "Every time you're with Carmen, you should lean toward her, because that's what you'd do nonverbally."
FL: Marisa Paredes [who plays Carmen] is one of a kind. When you're around her, you can't help but establish a sympathetic and warm closeness. She has the ability to do a lot with very little and also has the face and demeanor of an old-movie heroine.
The poem I read to Marisa's character when she is dying is one of the most beautiful in the English language. Just reading Tennyson's "In Memoriam" has the ability to place you on a very strong sentimental path. I still think that the poem's tremendous ending reminds us that the engine of our lives needs to be guided by the watchful eyes of our loved ones. My wife and I have the word "Stay" inscribed in our wedding rings, just like in the poem.
Preceding material is taken from Guillermo del Toro's The Devil's Backbone with permission of Insight Editions, which will publish the book November 28, 2017.