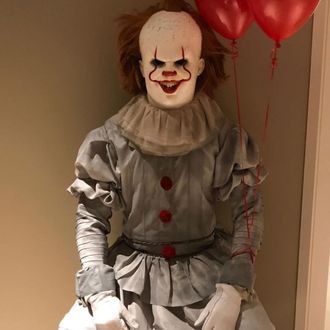 Photo: LeBron James/kingjames/Instagram
Hollywood people, they're just like us when it comes to October 31! But instead of going to Party City and dropping $10 on some pipe-cleaner halos or plastic devil horns, they can probably afford to do something, you know, a bit more creative with their burgeoning bank accounts. To see how these celebrities rang in Halloween (and, yes, Halloweekend) this year, we'll be keeping a running tally of costumes as they come in. Maybe they'll inspire you, or maybe they'll tell you what not to do next year.
Kim Kardashian went as a music icon …
… and then as another music icon, with the help of Kourtney Kardashian.
Ryan Seacrest and Kelly Ripa embraced Peak TV …
… while Lena Dunham embraced the bucket lifestyle.
Adam Levine raided his wife's closet …
… while Busy Philipps looked no further than Broadway.
Amal Clooney caught disco fever …
… and Rita Ora caught bad guys as a DC villain.
Adele made clowns cool again …
… while Isla Fisher brought new meaning to "sloppy unicorn."
Zoë Kravitz was inspired by Chuck Palahniuk …
… while Lauren Conrad was inspired by Disney.
Sarah Paulson kept things simple with a onesie …
… while Rowan Blachard went full-on regal.
Bruce Willis leaned into his feminine side …
… as did Colton Haynes.
Gwyneth Paltrow gave away a spoiler to Seven …
… while Cindy Crawford turned back the clocks to the '70s.
Usher gave a cool nod to Pulp Fiction …
… while Kate Beckinsale definitely minded the bollocks.
Gabrielle Union and Dwyane Wayne did not lip sync…
…while LeBron James made Pennywise even more terrifying by making him extra tall.
Dolly Parton and her eggs were inspired by Roald Dahl…
…while the cast of the Today show took on country music's finest (including Dolly herself).
Cardi B tapped her inner villain…
…while Wendy Williams committed to her outfit a little too hard.
And Jay-Z and Queen Bey paid homage to Biggie and the original Queen Bee.