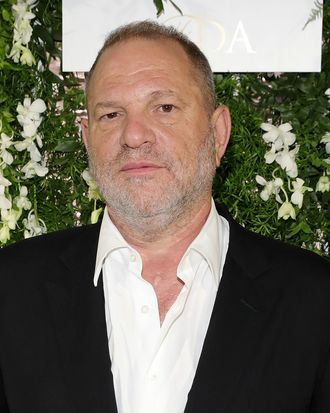 Photo: Neilson Barnard/Getty Images for Samsung
One of Harvey Weinstein's accusers broke her nondisclosure agreement on Monday to discuss how Weinstein used settlements over the years to keep his predatory behavior under wraps. The accuser, Zelda Perkins, was an assistant at Miramax in London during the late '90s. She says Weinstein repeatedly sexually harassed her while she worked for him, and that he sexually assaulted one of her female colleagues. In an interview with the Financial Times, she explained that she and her colleague settled with Weinstein in 1998 because they felt they had no other option.
"I want to publicly break my nondisclosure agreement," Perkins told the Times. "Unless somebody does this there won't be a debate about how egregious these agreements are and the amount of duress that victims are put under. My entire world fell in because I thought the law was there to protect those who abided by it. I discovered that it had nothing to do with right and wrong and everything to do with money and power."
The process of settling was so secretive, Perkins said, that she was not even allowed to keep a copy of the NDA. Instead, she has several pages outlining her obligations detailed in the agreement with Miramax. Perkins said that throughout the negotiations, she was made to feel "ashamed" for reporting Weinstein's harassment and assault. Ultimately, she and her colleague settled for a total of £250,000, but they did not get what they really wanted, which was to expose Weinstein's behavior and stop him from harassing other women.
Perkins told the Times that she understands the risks involved in breaking her NDA. But, she said, it is time for a discussion about what these kinds of agreements really accomplish. "I want to call into question the legitimacy of agreements where the inequality of power is so stark and relies on money rather than morality," she said. "I want other women who have been sidelined and who aren't being allowed to own their own history or their trauma to be able to discuss what they have suffered. I want them to see that the sky won't fall in." You can read the Times' full interview with Perkins here.