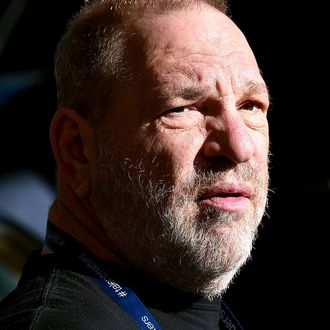 Weinstein.
Photo: Jacopo Raule/GC Images
Following the New York Times' bombshell investigation into Harvey Weinstein's decades of alleged sexual misconduct — and his subsequent bizarre response to the story — several of his political ties have been severed. The studio exec has been a longtime supporter of the Democratic Party, regularly donating to political figures like Hillary Clinton and Barack Obama and liberal groups. (Last year, he gave $10,000 to the Human Rights Campaign's Equality Votes PAC.)
The Record reports that New Jersey senator Cory Booker will no longer accept one such donation. Instead, Booker plans to donate the $7,800 he received from Weinstein for his campaign in 2013 to the New Jersey Coalition Against Sexual Assault. Massachusetts senator Elizabeth Warren will also donate a $5,000 campaign donation from Weinstein to charity, her spokesperson tells Variety. New York senator Chuck Schumer said he will contribute $14,200 in various donations from Weinstein to women's rights charities. According to the Daily Beast, Vermont senator Patrick Leahy will give the $2,700 he received from Weinstein during his reelection bid last year to charity. Senators Martin Heinrich of New Mexico and Richard Blumenthal of Connecticut will also give their $5,400 donations from Weinstein to local nonprofits fighting sexual violence against women.
The Democratic National Committee has also distanced itself from Weinstein, pledging to donate the $30,000 it received from Weinstein last year to EMILY's List, Emerge America, and Higher Heights, "because what we need is more women in power, not men like Trump who continue to show us that they lack respect for more than half of America," the committee said in a statement.
In addition to taking a leave of absence from the Weinstein Company, Weinstein said he will continue to make donations to various causes and charities (including any damages awarded from the lawsuit he is reportedly bringing against the Times over its exposé), refocus on taking down the NRA, and work on a film about Donald Trump.
This post has been updated throughout.