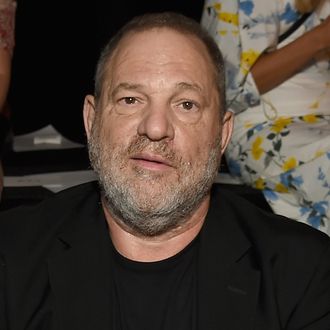 Photo: Nicholas Hunt/Getty Images For NYFW: The Shows
Since the New York Times published its report on the many, many accusations of sexual harassment made against studio head Harvey Weinstein on Thursday, even more allegations of the producer's impropriety have emerged. "I appreciate the way I've behaved with colleagues in the past has caused a lot of pain, and I sincerely apologize for it," he said in a statement to the Times last week. "Though I'm trying to do better, I know I have a long way to go." The Weinstein Company, founded by Weinstein and his brother Bob in 2005, announced on Friday that they supported Harvey Weinstein's self-imposed "indefinite leave of absence," leaving the door open for his return to TWC depending on "Harvey's therapeutic progress, the outcome of the Board's independent investigation, and Harvey's own personal decisions." However, in "light of new information about misconduct," the company's directors announced on Sunday afternoon that Weinstein has been fired from the studio. You can read the full statement from TWC's Board of Representatives below:
In light of new information about misconduct by Harvey Weinstein that has emerged in the past few days, the directors of The Weinstein Company - Robert Weinstein, Lance Maerov, Richard Koenigsberg and Tarak Ben Ammar - have determined, and have informed Harvey Weinstein, that his employment with The Weinstein Company is terminated, effective immediately.