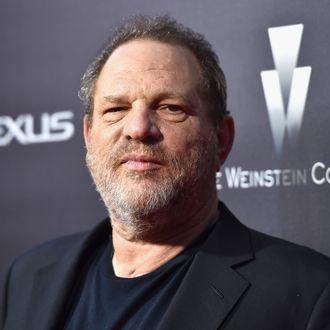 Photo: Alberto E. Rodriguez/Getty Images
The very public legal and financial troubles of the Weinstein Company got a new wrinkle on Thursday when embattled co-founder and former head Harvey Weinstein sued the studio in which he still owns 23 percent. Deadline reports that the movie mogul filed a lawsuit in court seeking copies of his company personnel file and any correspondence, including his email. TWC fired Weinstein earlier in the month after dozens of women came forward to accuse the producer of sexual harassment and assault. Weinstein now says the company has denied his requests for access to this information.
"Mr. Weinstein believes that his email account — which is the primary, if not only, account he used during the term of his employment by the Company — will contain information exonerating him, and therefore the Company, from claims that may be asserted against him or the Company," the document filed in court says. Lawyers for Weinstein argue that with these documents Weinstein will be better prepared to defend himself, and the company, in any upcoming legal battles, since he would be able to provide context to the files.
Currently, the Los Angeles Police Department is investigating rape accusations against Weinstein while New Yew City is also probing into a sexual-assault allegation from 2004. Earlier this week, actress Dominique Huett, who has also accused Weinstein of assault, filed a lawsuit against TWC alleging negligence. Huett claims that the company was complicit in covering up Weinstein's history of abuse, and she is suing the studio for $5 million.
The Weinstein Company's board, including Harvey's brother Bob Weinstein, have claimed to have no prior knowledge of misconduct.