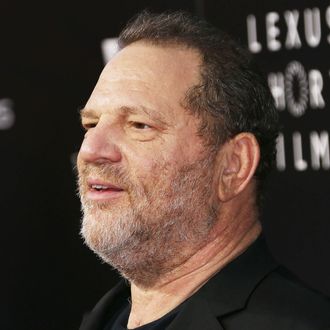 Harvey Weinstein.
Photo: Frederick M. Brown/Getty Images
Amid nearly four dozen allegations of sexual misconduct, Harvey Weinstein has reportedly resigned from the board of the Weinstein Company, the company announced Tuesday. TMZ reports that the group had ratified Weinstein's October 8 firing during Tuesday's board meeting, a move that would have necessitated Weinstein either resigning or being removed from the board; he chose to resign, but is reportedly still planning to contest his ouster. Deadline reports that the board is also trying to figure out Weinstein's current standing, since he owns about 23 percent of the company.
Weinstein, currently in treatment in Arizona, hired civil lawyer Patty Glaser to represent him at the board meeting. Their plan is reportedly to argue that Weinstein's firing was in direct violation of his employment contract, which he says he didn't violate. Earlier this week, the Weinstein Company received a rescue investment from Colony Capital.