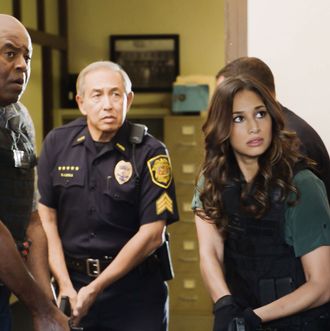 A Hawaii Five-0 locations assistant and office manager, Kelly Tolar, is suing CBS because her managers ignored harassment she was subjected to during her time working on the show. Tolar says Jake Downer, a locations scout for the show, "acted aggressively, unprofessionally, offensively, abusively and/or in a threatening manner," according to her filing. Downer allegedly abused Tolar by putting thumb tacks on her chair, threatening to poison the office water, grabbing her neck, photographing her in the office, leaving threatening or mocking post-it notes in her workspace and regularly telling her his dad thinks she's a "fucking idiot," according to The Hollywood Reporter, which obtained Tolar's filing. Downer's father is Hawaii Five-0 executive producer Jeffrey Downer. Tolar says the elder Downer treated the accusations against his son as a nuisance.
In her complaint, Tolar says that between September 2014 and December 2015, Jake Downer, on a daily basis, told her she should kill herself, on two separate occasions threw a box and a dead fly at her, threatened to set her desk on fire, and spit on her. After reporting him to her managers via email and text multiple times, Tolar filed a report with the Honolulu Police Department in December 2015. The alleged harassment didn't stop, Tolar said, and instead she felt bullied by Jeffrey Downer.
Separately, Tolar entered into a relationship with a manager from a different department in 2014. After she declined to be the employee's girlfriend, Tolar says, the man told other managers, supervisors, and subordinates about their sexual relationship. The man also showed co-workers nude photos of her, Tolar recounted in the her filing. She is now suing CBS, Eye Productions, Entertainment Partners, and both Jeffrey and Jake Downer on counts including sexual harassment, negligence, and workplace harassment. You can read the complete filing below. CBS Television Studios declined to comment.