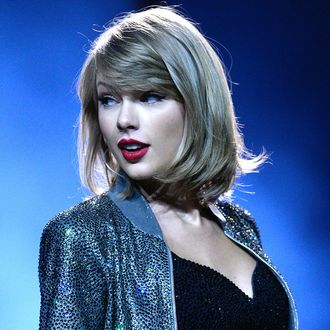 Look what you made her do (again).
Photo: Sascha Steinbach/Getty Images for TAS
Where in the world is Taylor Swift? Well, recently she was spotted in London looking like we made her do another music video. And now, here she is again, back to set the internet ablaze with a new song, "Gorgeous," an ode to a man so beautiful it hurts. A guy so apparently out of her league, he makes Taylor wanna take an early retirement to cat lady life. (But who?) Teased earlier today with some baby talk and synths, this is the third song (following "Look What You Made Me Do" and "…Ready for It?") from her looming album Reputation, which we still know next to nothing about. A select few diehard fans got invited to hear the album this week alongside Taylor, and a "source" claims the album gets mighty petty about the people who've crossed Taylor. Reputation arrives November 10, so consider this the (relative) calm before the storm and take cover while it's still safe.