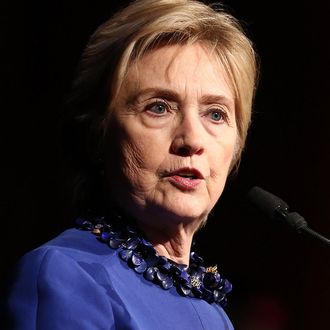 Clinton.
Photo: Monica Schipper/Getty Images
After the New York Times published a bombshell story accusing Harvey Weinstein of sexually assaulting or harassing women for decades, many public figures connected to the superproducer have condemned his alleged actions. Besides fellow Hollywood professionals, politicians who had received financial support from Weinstein over the years renounced him, with the Democratic National Committee and some individuals pledging to donate the equivalent of funds he donated to charity. Hillary Clinton, however, was not one of those issuing a statement about Weinstein, despite his being a high-dollar contributor to her political endeavors and a longtime friend of the Clintons. Today, however, Clinton issued a statement through her communications director, Nick Merrill, via Twitter.
According to CNN, Weinstein has given more money to Clinton over the years than any other politician, and he has organized and hosted events on her behalf. In an op-ed for the Times yesterday, Lena Dunham even mentioned one of those events, saying she appeared despite reservations about Weinstein because she wanted to support Clinton's presidential campaign. The statement arrives shortly after new reports in both The New Yorker and the New York Times have more women going on the record with more allegations of harassment, assault, and now rape against Weinstein.