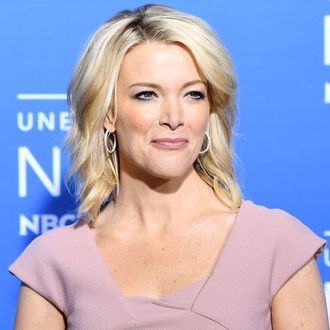 Megyn Kelly.
Photo: Angela Weiss/AFP/Getty Images
On this morning's episode of Megyn Kelly Today, the host opened her hour by addressing the New York Times story reporting that Fox News host Bill O'Reilly settled a sexual harassment case for $32 million earlier this year. The settlement was reached before O'Reilly's on-air contract was extended for four more years for $25 million in February, despite the fact that 21st Century Fox was aware of the payout before it agreed to keep him on. In a somber address to the camera, Kelly refuted O'Reilly's claim that no one ever complained about his behavior, saying she had personally done so while at Fox News.
Kelly also shared an e mail she wrote last November to company co-presidents Bill Shine and Jack Abernethy in which she told them that O'Reilly's public handling of the accusations against him was representative of the culture that bullies women into staying quiet in the face of harassment. "Perhaps it's his own history of harassment of women which has, as you both know, resulted in payouts to more than one woman," Kelly wrote, "including recently, that blinded him to the folly of saying anything other than, 'I am just so sorry for the women of this company who never should have had to go through that.'" According to Kelly, Shine called her personally and promised that O'Reilly would be "dealt with," but the host received no punishment at the time.
Kelly closed her segment by calling out Fox News head of media relations, Irena Briganti, for the victim-discrediting tactics Kelly says she is known for, and demanding the bully culture be put to an end. Next she brought out former Fox News colleague Juliet Huddy, who has also accused O'Reilly of harassment, as well as Huddy's lawyer, and the three discussed how HR departments often fail people who make harassment claims, the challenge of taking on a massive corporate machine, why assault victims stay quiet in the wake of violence, and the toxic culture for women at Fox News specifically. Fox News released a statement addressing the Briganti allegations, stating "Irena is a valued colleague and she has our full support."