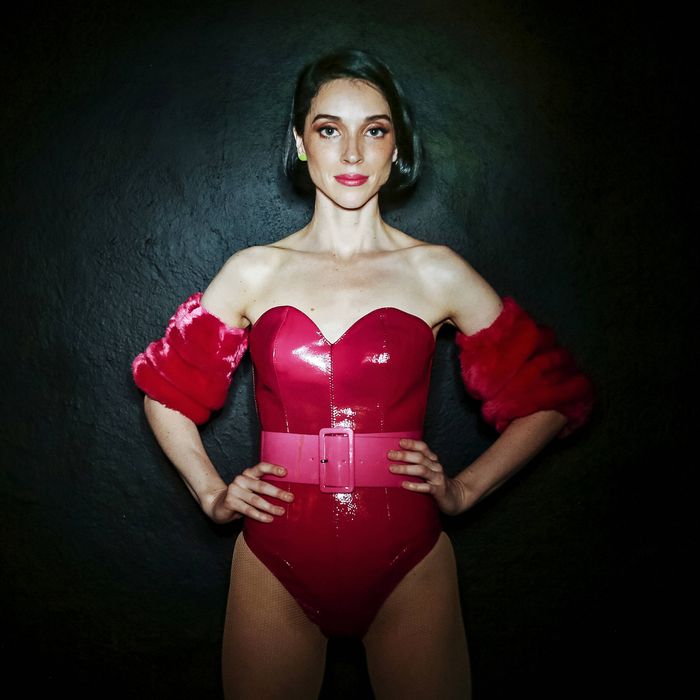 Photo: Maria Jose Govea/Red Bull Content Pool
The evolution of St. Vincent over the last decade can best be described as a congealing. Most musicians' careers undergo a coming-together, in which their artistic identities become more and more defined as they gain popularity and success with each record cycle. But the guitarist and songwriter born Annie Clark has paved this road for herself not just figuratively but also almost tangibly, from her classically minded, sweetly coy 2007 debut, Marry Me, and then through four more studio albums and corresponding tours (five if you count Love This Giant, her project with David Byrne). For fans of her work, it's been like watching a muscle grow, from tender beginnings into a tensile, robust powerhouse, one its owner now wields with dangerous precision: With each record, St. Vincent has gained charisma and strength, not to mention pure volume and intensity (coincidentally at the same rate as her nonmusical profile has climbed, thanks to some involvement with the fashion world and a high-visibility relationship or two). Her last album, 2014's St. Vincent, saw her finally unfurling her freak flag entirely, revealing an electric iconoclast both willing and capable of wielding power of pop-star proportions. Its execution, both as a record and an elaborate live show, left one with the distinct feeling that St. Vincent was meant for much, much bigger things.
That trajectory was tested Saturday night at a preview performance of Masseduction, her unquestionably most confrontational, Plasticine album yet. As a part of the Red Bull Music Academy Festival in Los Angeles, the "Fear the Future" show was marketed as a one-off general-admission event on Paramount Studios' back lot, at which St. Vincent would perform her entire new record, which she has described as an electronically powered meditation on power and seduction. Masseduction's overtures up until then — its announcement, its video releases, its album art — had been quite literally plastic, a retina-searing visual feast bursting with neon and vinyl, featuring the flawless Clark, who has traded in her wild Einstein frizz for a sleek black bob, alongside a cast of similarly couture bodies, all shellacked with a touch of the grotesque, like mutant Warhols fed on ecstasy and Pop Rocks, or Yayoi Kusama on Xanax. With design assistance from Willo Perron — whose clientele includes Rihanna, Kanye West, Lady Gaga, and Jay-Z — and with the show coming just days after her Spotify fan-experience event, a large Masseduction-themed escape-room warehouse, expectations were unusually, if predictably, high. The promise of such heavy conceptual trappings — less than a week from its October 13 release, no less — usually foreshadowed a significant moment in an artist's growth.
If fans filing onto the lot and into a faux intersection on Paramount's New York City set had come looking for the same sort of exhilarating, next-level experience they had experienced with the St. Vincent tour, however, they may have gone home disappointed. Things certainly seemed like they might get experiential at first: Fluorescent signs (advertising things like BEAUTY and COSMETICS) and soft lights in the "windows" of the brownstones that lined both streets seemed like they might be part of the act. But aside from the latter pulsing a bit, no such immersive component materialized. The 90-minute set, which commenced 45 minutes past its posted set time (like a proper stadium show, at least), was split into two acts: the first a chronological revue of her past albums, each slightly tweaked toward her current, more digital sound. Beginning on the left edge of the stage with the curtain open just enough to reveal her — dressed in a hot-pink bodysuit with water-wing puff sleeves and matching thigh-high vinyl boots — with her guitars (also neon) and mic stand, after each of ten songs, she'd inch mechanically to the right, to another mic stand waiting, all in V formation, against simple Ed Sullivan curtains, as though literally (and dutifully) retracing her own career timeline.
Following an actual miniature intermission peppered with sound effects that can only be described as sci-fi purring, Clark reappeared. Now in a silver lamé cocktail dress, she pivoted (a bit awkwardly) to present the promised second act: a top-to-bottom presentation of Masseduction. The songs themselves are beyond formidable; many, in particular "Pills" and "Sugarboy," radiate mainstream pop appeal. Still, Clark played entirely solo, with accompaniment tracks, sans even the three-piece band she once toured with. The live video art accompanying her was mostly chopped-and-screwed clips of already-released videos, including "New York" and "Los Ageless" and her Carrie Brownstein collaboration; the flashing bits of '90s excess — leopard-print leotards, crimped ponytails, automatic shredders, a cake made to look like a landline phone — were Clark's only partners onstage, and at times, they threatened to overshadow her, rather than create an immersive experience around her. It's feasible that the show functioned as a dress rehearsal run-through for St. Vincent's "Fear the Future" tour — it felt a bit like one. The crowd seemed confused, too; many lingered beneath the stage long after the PA began playing its "show's over, go home" playlist, in hopes that when Clark repeated the line "It's not the end" toward the end of closer "Smoking Section," it hadn't been ironic.
Despite Clark's ever-pristine musicianship, her new performance featured little of the frenetic, eccentric energy that has propelled her star upward in recent years. (She even lay down on the stage for Act I's "Strange Mercy.") Clark has spoken of the exhaustion brought about by touring, especially that of St. Vincent, and a song like "Fear the Future" might also shed light on any lingering hesitation. Yet everything St. Vincent has created up to this moment has not simply suggested that she's up for this new slog, with new material that stabs more savagely and energetically at our cultural reality than ever before, that thrashes wildly with the fears and sadnesses of existing in this moment; it has almost necessitated it. This live presentation, as is, will be far too prepackaged and static for the work it's showcasing, which is undeniably positioning its creator for a rise to superstardom. All that's left is whether she's ready or willing to accept that ascent.