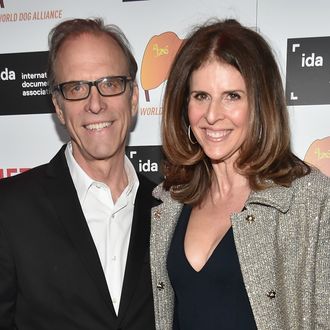 Photo: Alberto E. Rodriguez/Getty Images
After tackling campus rape in their 2015 documentary The Hunting Ground, Amy Ziering and Kirby Dick are shifting their focus, if not their subject matter, for the upcoming film The Untitled Sexual Assault Documentary. According to The Hollywood Reporter, the pair's new project will focus on "predators in Hollywood" and the industry's pervasive sexual-assault problem.
"What our film will capture, especially at this pivotal turning point in Hollywood history, is the underlying current of abuse and manipulation at the hands of power," Dick told THR. "Our film will also underscore the courage it takes to come forward and be a catalyst for change." The Hunting Ground, shortlisted but not nominated for an Oscar, was distributed by the Weinstein Company; Lady Gaga famously performed the film's Academy Award–nominated original song "Til It Happens to You" at last year's Oscars.
The timing might suggest Dick and Ziering were inspired by the recent allegations of sexual harassment and abuse against producer Harvey Weinstein, director James Toback, and others. However, the duo says the documentary had already been in the works. It was the post-Weinstein public outcry that apparently made financiers and distributors more willing to get involved with the project. Explained Ziering, "Then the Weinstein stories broke, and it's like an invisible dam collapsed." Earlier this month, the duo called for the now-disgraced Weinstein to be removed from the Academy of Motion Picture Arts and Sciences. The former studio head later lost his membership to the Academy on October 14.