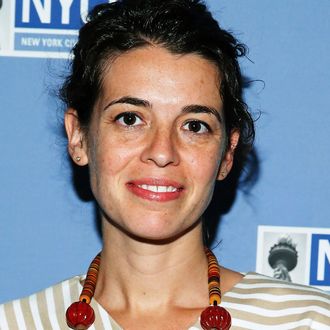 Quiara Alegría Hudes.
Photo: John Lamparski/WireImage
Quiara Alegría Hudes, co-author with Lin-Manuel Miranda of the musical In the Heights, which is currently being developed for film with the Weinstein Company, no longer wants to work with the studio after numerous women came forward to accuse Harvey Weinstein of sexual harassment and rape. "I hope the Weinstein Company has enough grace, in the wake of these revelations, to respect my stand as a woman, and to allow us to extricate In the Heights from them," she said on Twitter. "In the Heights deserves a fresh start in a studio where I'll feel safe (as will my actors and collaborators)."
Miranda, who wrote the music and lyrics for In the Heights, quote-tweeted Hudes's statement, noting, "As usual, Quiara does the prose best. She speaks for us both." He previously said he is "appalled and repulsed by the Weinstein news as anyone with a beating heart. And forever in awe of the bravery of those who spoke out." Weinstein was fired from the Weinstein Company, but questions about the company's complicity in his actions linger, alongside reports that board members knew of his settlements with women since 2015.