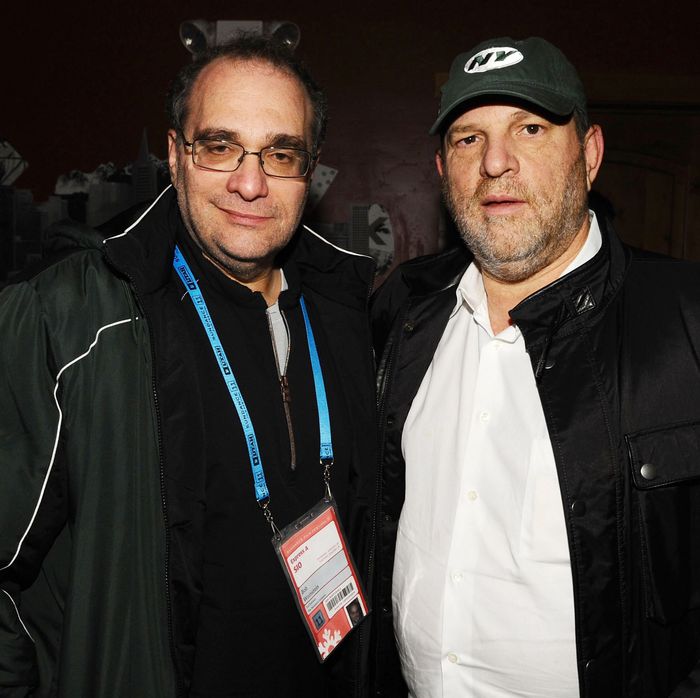 L-R: Bob Weinstein and Harvey Weinstein.
Photo: Michael Buckner/Getty Images for Bing
As damningly similar accusations of sexual harassment, sexual assault, and rape continue to mount daily against the Weinstein Company's disgraced former figurehead, Harvey Weinstein, his brother, Bob Weinstein (the company's other co-founder/co-chair), has said the allegations came as an "utter surprise," repeatedly denying rumors of TWC's imminent sale as "untrue."
On the heels of Harvey's firing and resignation from the Weinstein Company board, Bob — the less flamboyant, Los Angeles–based Weinstein, who claims to have been estranged from his New York–dwelling sibling for the last half-decade — recently insisted the company has no plans to shut down or sell off its library of film and television properties. Moreover, Bob, 63 (who, like Harvey, owns about 23 percent of the mini–major studio), has pledged to remain in command, pointing to his low-glamour yet lucrative success running Dimension Films, TWC's genre division, which regularly eclipsed Harvey's prestige fare in terms of sheer box-office yield.
But at a precarious moment when TWC is being subpoenaed by New York State's attorney general over potential civil-rights violations and TWC continues to audition ad agencies to concoct a new name and brand identity, seeds of fresh chaos have been sewn. The private-equity firm Colony Capital entered into a preliminary agreement to provide an emergency "cash infusion" for the scandal-scarred studio's operations, only to pull out of the deal unceremoniously Wednesday for undisclosed reasons. Harvey is suing his own former company for access to certain personnel files he believes will exonerate him. And Bob is facing serious troubles of his own.
According to two sources with close business relationships to the Weinstein Company who are in daily contact with the studio's top executives (but who declined to be identified because they were not authorized to speak publicly on the matter), TWC's board of directors has begun to view Bob Weinstein as a "liability": He's been Harvey's stalwart business partner since the startup days of Miramax in the mid-'80s and now must carry the taint of the Weinstein surname in a Hollywood forever altered by the scandal. "There's no way for [Bob] to weather his brother's storm," as the thinking goes.
"Anybody who has any kind of liability hanging over their heads has to go," agrees a former TWC executive (who did not have direct knowledge of the board negotiations).
Despite Bob's emotional condemnation of Harvey in The Hollywood Reporter — and the sensational report that Harvey once punched Bob in the face during a business meeting — speculation remains that Bob has always been and will be his brother's enabler. "Blood is thicker than water, and maybe that's what the board is thinking as well," says a veteran studio executive who has worked for the Weinstein brothers.
Further muddying the waters, Amanda Segel, an executive producer on the Weinstein Company drama The Mist, stepped forward on Oct. 17 to accuse Bob Weinstein of sexual harassment — specifically, inappropriate sexual overtures and private dinner invitations — during production of the Spike TV series last year.
Bob's attack-dog lawyer Bert Fields issued a strong denial on Weinstein's behalf, saying the Variety story showcasing Segel's allegations was "riddled with false and misleading assertions."
Still, less than 24 hours after Colony Capital backed out of providing an emergency financial lifeline to TWC (Colony chair Thomas Barrack Jr. said the allegations of sex abuse create a "Rubik's Cube" of complexity around the company's prospects and value), the private-equity firm Fortress Investment Group has stepped in to provide TWC an emergency $35 million bridging loan. Twenty-two buyers, including Viacom, Lionsgate, and MGM, are reportedly interested in buying the studio, which was said to be worth between $400 and $500 million prior to the Harvey scandal. All while the Weinstein Company board (with the help of the investment firm Moelis & Company) is said to be exploring firing Bob, anticipating that such a move would make the company more attractive to buyers.
"One of the conditions [of a sale] will almost certainly be: 'We want to have no liabilities,'" says entertainment-industry analyst Hal Vogel of Vogel Capital Management. "So they'll take the assets but make it very clear they don't want to have the liability of any of these relationships, they don't want to be sued. That's going to be a very sticky point."
"The name 'Weinstein' is so tainted that any group of investors may very well say, 'hands off,'" says Jason E. Squire, author of The Movie Business Book and an associate professor of practice at USC's School of Cinematic Arts. "The idea is to start fresh and not have any kind of association with either brother."
In the event both Weinsteins get the axe, the company's leadership would likely fall to TWC's chief operating officer, David Glasser — Harvey's right-hand man for nearly a decade who quit the company briefly in 2015 before signing a three-year deal set to expire next year. But some are skeptical of what a future without the Weinsteins would even look like. "The problem is, it's called the Weinstein Company," says a powerful agent with longstanding ties to the studio. "It's all about those two guys. David Glasser can take over. But in conversation, if Harvey is around, David Glasser didn't speak. He's like a mouse in the room with nothing to say. If you're trying to sell a movie, you're not going to sell the movie to David Glasser."
In the meantime, Fortress Investment Group's cash loan to TWC could come through this week (a spokesperson for the company did not respond to a request for comment from Vulture), but is not yet a fait accompli. And so far, TWC's board has made no move to remove Bob from power (a rep for the Weinstein Company did not respond to a request for comment). But Hollywood has already begun distancing itself from the company.
Harvey Weinstein's name is being ceremonially scrubbed from the credits of television projects such as Project Runway and MTV's Scream reboot, while Amazon has dropped a Weinstein Company–produced series from director David O. Russell that was set to star Julianne Moore and Robert DeNiro.* Hamilton mastermind Lin-Manuel Miranda has called for TWC to relinquish movie rights to the Tony-winning musical In the Heights that he co-created. And David Heyman, a producer for the kids flick Paddington 2, which is set for a January 2018 release by TWC, has said he has been in negotiation with other distributors and ultimately hopes the "Weinstein Company name is nowhere near" the movie by the time of its North American theatrical rollout.
"Shut it down," Judd Apatow suggested earlier this month at Variety's Power of Women luncheon in Los Angeles. He went on to ridicule the idea that Harvey could have engaged in so much alleged sexual predation without the complicity of co-workers and underlings, not to mention a certain sibling. "People know what I'm doing," the This Is 40 writer-director said. "If I'm in the office and the door is closed, they know I'm secretly eating red velvet cupcakes."
*A previous version of this piece mistakenly stated that the Weinstein Company name was being removed from Amazon's David O. Russell series. That series has in fact been dropped entirely.