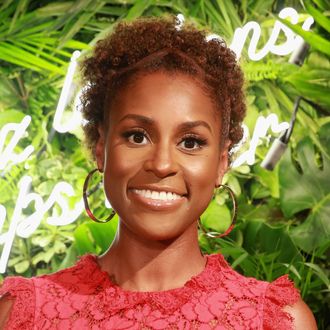 Photo: Robin Marchant/Getty Images
Issa Rae already has two seasons of comedy stardom under her belt, so the next step is obvious: time to create a heady period family drama with acclaimed author Angela Flournoy. According to Deadline, the Insecure actress is developing an as-yet-unnamed series for HBO about an African-American family grappling with life in Los Angeles during the "early and turbulent" '90s. The show will focus on the marriage of "Sheryl and Jackson, with the former an envelope bounds-pushing real estate agent and the latter a conflicted LAPD anti-gang task force recruit," as well as the couple's teenage children, Ebony and Les. Flourney will write the pilot, while Rae will executive-produce.
"I'm so thrilled to be working with Angela," Rae said to Deadline. "I was a huge fan of The Turner House and we feel so lucky to bring her beautiful storytelling to HBO." The Turner House, Flourney's debut novel shortlisted for the National Book Award for Fiction, follows several generations of an African-American family living in Detroit, exploring familial secrets and their relationships with the family home.