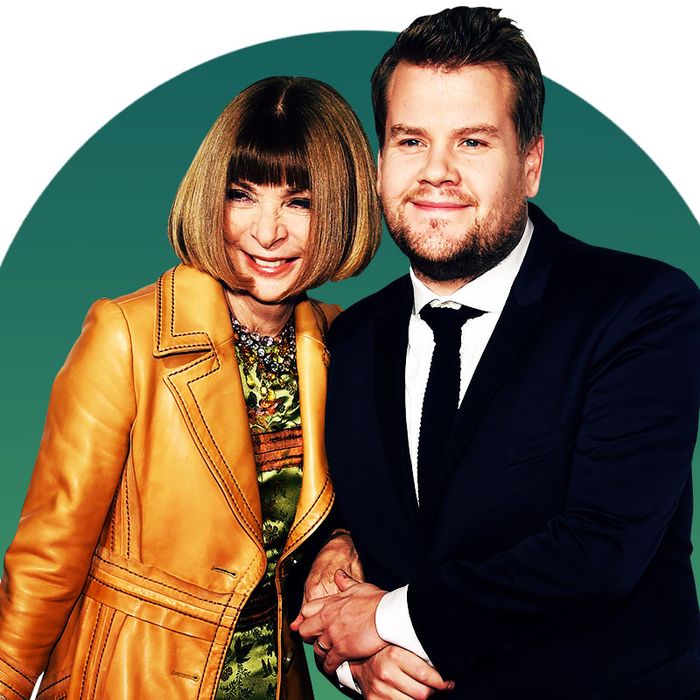 Photo-Illustration: Vulture and Photo by Getty Images
When you think of James Corden and Anna Wintour, the first descriptions that might come to mind are "that British late-night guy who sings in cars" and "fashion goddess." But over the past few years, The Late Late Show host and Vogue editor have formed a close friendship, seemingly forged from their mutual admiration for each other's professions and enjoyment of a good, silly laugh. Let's track their friendship timeline from day one.
November 2011: Corden gets on Wintour's radar while performing the lead in the wildly popular West End play One Man, Two Guvnors. Before one of his performances, she sends him a card: "To James. From your biggest fan and most avid stalker, Anna."
April 2012: When One Man, Two Guvnors transfers to New York a few months later, the duo solidify their friendship status with monthly meet-ups. "We used to go for lunch every month when I was doing a play in New York," Corden later explained. "I speak to her fairly frequently. I just really, really like her. We get on very well and she's amazing and incredibly supportive."
Mid-2014: Les Moonves, the president of CBS, meets with Wintour for dinner, where she convinces him through very high praise that Corden should succeed Craig Ferguson as The Late Late Show's next host. "Ninety-five percent of people didn't know who I was talking about," Moonves later said. "The only people who did were either Brits or people who knew him from the Broadway theater scene. When I mentioned it to Anna Wintour, she was over the moon — she thought I'd gotten Johnny Carson back."
September 2014: While filming a segment for Vogue's "73 Questions" video series, Wintour crowns Corden as her favorite comedian "of all time." Mere days before the video debuts, Corden is announced as The Late Late Show's new host.
April 2015: Corden walks the runway at Burberry's fashion show in Los Angeles thanks to the help of Wintour's connections, which he documents in full on The Late Late Show. Prior to walking, the two hang out in the coveted front row and enjoy the looks.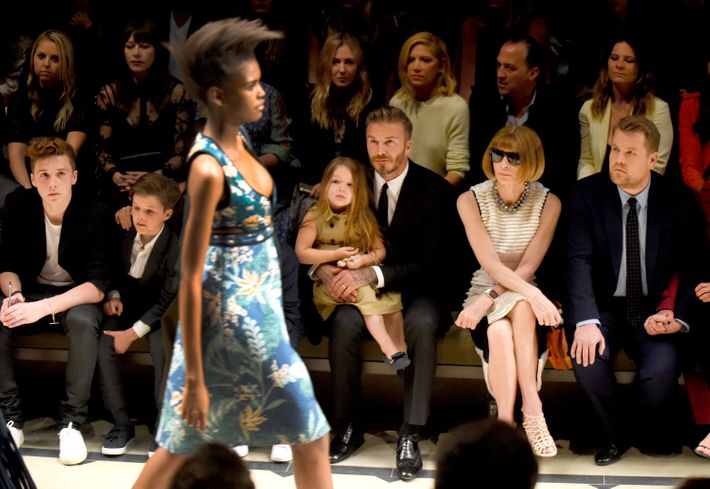 May 2016: At the annual Met Gala, a mushy Corden says Wintour is his "favorite magazine editor," but she's "so much more" than that to him.
June 2016: Wintour hosts a glitzy pre-Tonys dinner for Corden — that year's host — at her Manhattan townhouse with the help of Lin-Manuel Miranda. Following Wintour's "rousing introduction" to her friend, Corden thanks her for the immense help she had in boosting his career. "How can I ever repay what you've done for me, Anna?" he said. "You should see these suits I'm wearing." The next day, Corden happily admits on the Tonys red carpet that Wintour had chosen "everything I'm wearing tonight."
June 2016: Wintour divulges that the reason she loves Corden's humor so much is his sense of inclusiveness. "You always feel you're in on the joke with James," she explained. "He wants to bring you into his world." The first time they communicated with each other was fitting for his goofball nature: "In our very first email exchange — I'd never met him — he said, 'Will you be my best friend?' He's that sort of person."
May 2017: Corden and Wintour boogie down to Katy Perry's "Teenage Dream" on the Met Gala dance floor. Fellow attendee Salma Hayek records it all for posterity.
October 2017: Wintour appears as a guest on The Late Late Show, where she partakes in the tantalizing game of "Spill Your Guts or Fill Your Guts" with Corden. He even convinces her to eat a bacon-wrapped pizza, say how much she hates Donald Trump, and reveal she would've had sex with Bob Marley if given the chance. In retaliation, those tough questions result in Corden eating a bull penis and deep-fried butter stick in front of his BFF.