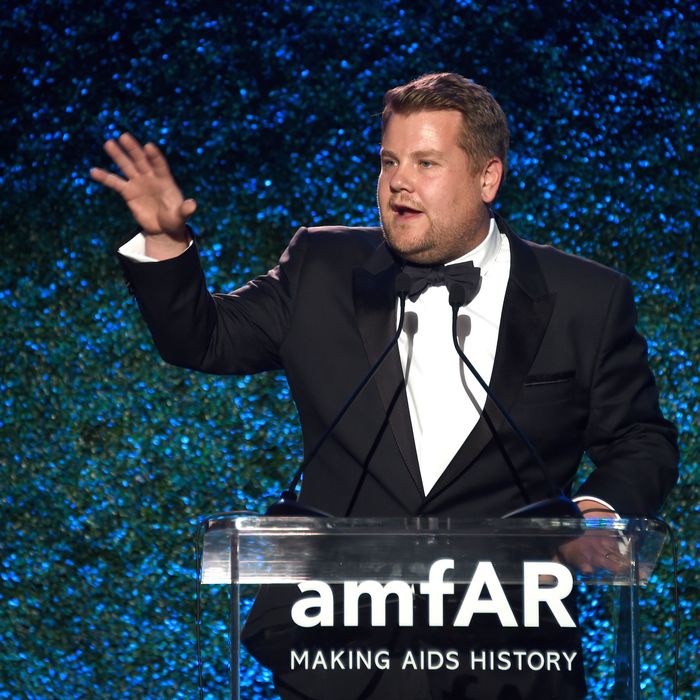 James Corden at the 2017 amfAR Gala on October 13, 2017.
Photo: Kevin Tachman/amfAR2017/Getty Images
In a series of tweets Sunday afternoon, James Corden apologized for joking about Harvey Weinstein's sexual-abuse allegations at Saturday night's amfAR Gala.
"To be clear, sexual assault is no laughing matter. I was not trying to make light of Harvey's inexcusable behavior," Corden wrote on Twitter, "but to shame him, the abuser, not his victims. I am truly sorry for anyone offended, that was never my intention."
During the gala, Corden had made several jokes about the Weinstein allegations. "Right here in L.A., it's so beautiful, Harvey Weinstein has already asked tonight up to his hotel to give him a massage," Corden began, referring to a common theme in the accusers' stories.
"It has been weird this week watching Harvey Weinstein in hot water — ask any of the women who watched him take a bath, it's weird watching Harvey Weinstein in hot water," he continued.
Corden's apology came after a number of people, including Asia Argento and Rose McGowan — both of whom have accused Weinstein of rape — expressed anger at his comments on Twitter. "James Corden is a close friend of HW's," McGowan tweeted early on Sunday morning. "Hearing the audience's vile roars & laughs show EXACTLY what kind of HOLLYWOOD you really are."
Shortly after, Argento tweeted, "Shame on this pig and everyone who grunted with him," with a video of Corden's appearance.