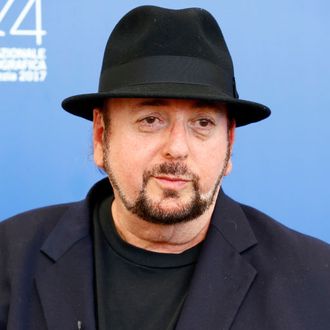 Photo: Barcroft Media/Barcroft Media via Getty Images
James Toback, a director and writer perhaps best known for his work in the films Bugsy and Two Girls and a Guy, has been accused by nearly 40 women of repeated instances of sexual harassment. In a new bombshell feature in the Los Angeles Times, these women — who were often in their early 20s — allege that Toback followed a specific pattern in order to make them feel vulnerable and acquiesce to his sexual requests: He would approach them in various stores around New York City, boast about his successful career with newspaper clippings or articles as proof, and then promise to make them "stars" if they became intimate with him when they finally met for a meeting. More often than not, these meetings would lead to Toback inquiring about the woman's masturbation history and how she kept her pubic hair, as well as Toback masturbating or dry-humping in front of the woman if they were in private. Other times, he would ejaculate onto the woman's body or into his pants.
"The way he presented it, it was like, 'This is how things are done,'" actress Adrienne LaValley, one of the many women who shared on-the-record stories with the Times, said about her hotel-room encounter with Toback. "I felt like a prostitute, an utter disappointment to myself, my parents, my friends. And I deserved not to tell anyone." Louise Post, the guitarist and vocalist for Veruca Salt, added another disturbing behind-closed-doors encounter: "He told me he'd love nothing more than to masturbate while looking into my eyes. Going to his apartment has been the source of shame for the past 30 years, that I allowed myself to be so gullible."
When reached for comment, Toback vehemently denied the claims made by all 38 women, saying that if he indeed met any of these women, it "was for 5 minutes and have no recollection." He also insisted it was "biologically impossible" for him to engage in such behavior due to his diabetes and heart condition. You can read the entire Times feature here.