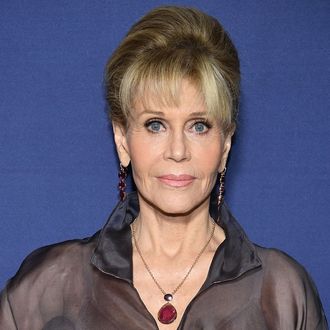 Jane Fonda.
Photo: Dimitrios Kambouris/Getty Images
Jane Fonda first heard sexual-harassment allegations against Harvey Weinstein one year ago, and now she's making up for lost time. Fonda appeared with Gloria Steinem on MSNBC's All In With Chris Hayes Wednesday night as spokespeople for the Women's Media Center, and pointed out the racial optics of Weinstein's accusers. "It feels like something has shifted," Fonda said. "It's too bad that it's probably because so many of the women that were assaulted by Harvey Weinstein are famous and white and everybody knows them. This has been going on a long time to black women and other women of color and it doesn't get out quite the same." Of the over 60 women who have publicly accused the ex-mogul of sexual misconduct, only a handful have been women of color, including Lupita Nyong'o and Vu Thu Phuong.
Steinem also suggested that the fallout from Weinstein's scandal has revealed a "tipping point," toward identifying racist and sexist bias. Of course, we should also take a moment to appreciate the irony that it requires two famous white women — Fonda and Steinem — to vocalize the inherent privilege in the Weinstein scandal on national television (which has elicited outcry and reform that hasn't been extended to, say, R. Kelly's alleged sexual-abuse victims). Weinstein, now in rehab, is under investigation by police departments in Los Angeles, London, and New York City, and has denied all allegations.