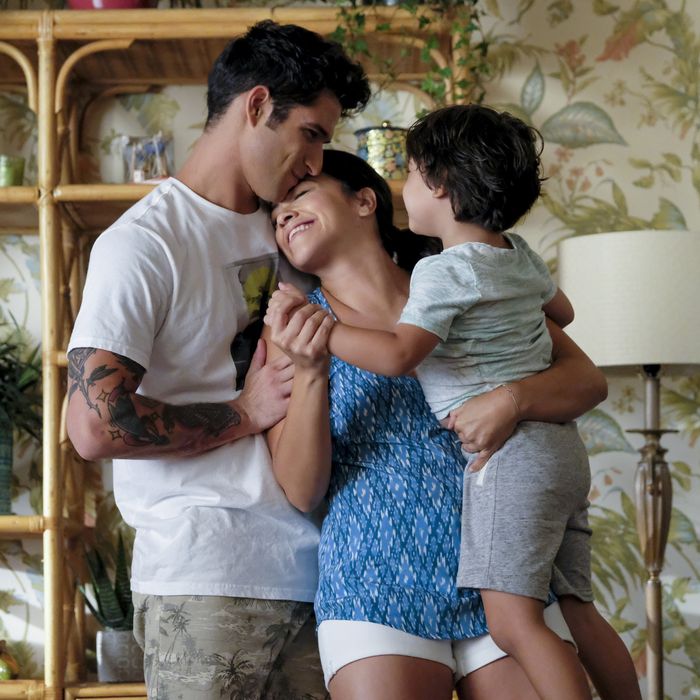 L-R: Adam, Jane, and Mateo.
Photo: Scott Everett White/The CW
The fourth season premiere of Jane the Virgin began with its usual, narrated exposition: "When Adam Eduardo Alvaro was 25 years old, he found a love letter in a floorboard that altered the course of his life."
But it wasn't the Latin-lover, pillow-talking narrator fans have come to think of as a favorite character. It was a mysterious woman with a subtle Latin accent, pleasing tone, and plenty of sass. Throughout the episode, she gave viewers the backstory on adorable Adam — Jane's first love — and argued with OG Narrator about things like the number of cranes in a scene and the proper way of ending a chapter.
At one point, she called OG "a dick." In fairness, says two-time Emmy nominee Anthony Mendez, who voices the narrator, "Let's face it, he was being a dick."
Jane showrunner Jennie Snyder Urman says the mysterious woman won't be back to argue with Mendez again, because she's served her purpose.
"We were introducing a significant new person late in the series so we wanted him to come on with a sense of his weight in the narrative," Urman told Vulture. "Also, the theme of this episode is that everyone's the hero in their own story, and you go along in your story when suddenly it collides with somebody else's. So we thought it would be interesting if you got the sense that Jane was in her own story and it collides with somebody else who has his own story and has his own place in it, and you see what happens when these two stories meet."
That was music to Mendez's ears. "Jennie Urman told me over lunch and my first thought was, 'So, this is what my last meal looks like!'" he told Vulture in an email. "Then, she showed me the script and I was relieved … then very impressed! But more relieved.'"
Viewers may never know who the mystery woman was — four seasons in, we still don't know the identity of the male storyteller — but voice-over actress Vanessa Marshall says it was an honor to play such a distinct part on one of her favorite TV shows. "I treated it pretty much as I would any other voice-over audition in terms of figuring out the specificity of what the narrator wants and keeping in mind the style of the telenovela and how she might sound different from the original narrator. [The direction] was 'sultry, throaty female voice, Latina lover narrator.' That could be anything, so I just let my love for the show guide me."
Finding the right companion for Mendez's narrator wasn't easy. "We tried some amazing voices that didn't sound quite right with Anthony," Urman said. "I felt like the qualities of their voices worked together. There was a sonic resonance as well as all of the character work that they both brought. We wanted to mine some fun from our dueling narrators because they're on different teams; they have different agendas and different stories they want to be telling. So there was bound to be some tension between them, and we needed the right person to capture that with him."
Marshall recorded the narrations with Mendez in a Los Angeles studio. "He speaks so quickly and so precisely," she said. "His brain is so facile. I was blown away. I'm a little slower than that. Sometimes she spoke quickly, but for the most part, she luxuriated in the language a bit more."
By the end of the episode, Jane and Adam arrange a coffee date, and the female storyteller informs viewers this is how the couple got back together. But it's OG who has the last word: "He's part of our story now."