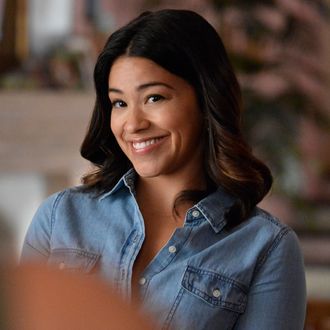 Jane the Published Author.
Photo: Lisa Rose/The CW
Time to support niche artists. Jane Gloriana Villanueva, a young romance novelist out of Miami has just written a hot new historical novel. Her debut, Snow Falling, transposes her "straight out of a telenovela" life story into 1902 Miami, full of mustaches, intrigue, and railroad tycoons. You might have seen her talk about it on the heartwarming TV series Jane the Virgin, but soon you will be able to read it in real life. Adams Media, a Simon & Schuster imprint, is publishing Snow Falling, the book from within the show, on November 14. You can preorder it here, as it's the perfect holiday gift for your friends who love Jane the Virgin and your friends who don't watch Jane the Virgin and maybe need a little encouragement.