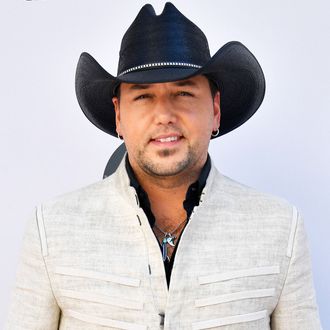 Jason Aldean.
Photo: Frazer Harrison/Getty Images
Jason Aldean has issued a full response to the mass shooting at his Route 91 Harvest Festival in Las Vegas on Sunday, which left 59 people dead and more than 500 hurt. "Over the last 24 hrs I have gone through lots of emotions. Scared, anger, heartache, compassion and many others. I truly don't understand why a person would want to take the life of another. Something has changed in this country and in this world lately that is scary to see," he wrote on Instagram late Monday night. "This world is becoming the kind of place I am afraid to raise my children in. At the end of the day we aren't Democrats or Republicans, whites or blacks, men or women. We are all humans and we are all Americans and its time to start acting like it and stand together as ONE! That is the only way we will ever get this country to be better than it has ever been, but we have a long way to go and we have to start now." In the wake of the shooting, Aldean said that he and his crew were safe. Monday night, the country singer said he is keeping the victims in his prayers.
Route 91, the three-day country-music event that was the site of the shooting, also issued a statement online: "On behalf of the entire Route 91 Harvest Family, we are completely devastated by the event that occurred Sunday night. Our deepest sympathies go out to the injured and the deceased and their loved ones, senseless violence has claimed the souls of our fans and we have little in the way of answers." The Route 91 team thanked first responders for their support.